A big month of racing at Focus on Fitness.
It kicked off with the Paracycling World Championships and Ironman 70.3 World Championships and finished with Ironman Barcelona. Well done to all athletes from Focus on Fitness who trained hard and raced easy all season!
Paracycling World Championships 2017, Pietermaritzburg, SA
Seamus Wall and Damien Vereker made the trip back to Pietermaritzburg SA where they competed last year season in a World cup race, this time it was a World Championships.
Seamus had a great opportunity being selected as a development rider to take part in a UCI Training Camp for 2 weeks leading into the race. Seamus is progressing all the time in the H4 category,  he finished 14th in the TT and followed that with 12th place in the road race. Damien was part of the national squad and was piloted by Dermot Radford for the campaign. They finished 11th in the TT and had a mechanical in the road race which unfortunately ended the race for them.
Cillbarra 5k, Ballybeg
The annual Cillbarra 5 km road race took place on Sept 1st, a slightly shorter race this year, with the distance dropped from 4 mile to 5 km. Good weather on the evening lended to a good crowd turning out for the race.
Eamonn Ryan was first of the Focus on Fitness athletes in 18.48, Ciara Mc Sweeney was next in 21:00, followed closely by Neil Griffin in 21:39,  Nigel O'Sullivan next in 22:58, Ger Nolan in 23:31, and Peter Whelan who is having a great year finishing in 25:05.
Waterford Greenway Half Marathon 2017
This new local race, using the newly opened Waterford Greenway was a sell out within hours of entry opening. The race organised by West Waterford AC started in Kilmacthomas and ran to Dungarvan taking in some of the very scenic sections of the Greenway.
Stephen Butler ran a great race in 1:28 in his lead up to Dublin Marathon. Gareth Pope took part on the back of his recent Ironman and finished in 1:34, Liam Power was next in 2:17 coming back from injury and using it as a build up race before Dublin.
Ironman 70.3 World Championships, Chattanooga, Tennessee, USA
The Ironman 70.3 World Championships 2017 was a year in the making for some Focus on Fitness athletes.
Eoin Lyons, John Hayden, Siobhan Kennedy and Sandra Rellis qualified at Dublin 70.3 in 2016, one of the first opportunities to qualify for the 2017 World Championships. This being just over 12 months ago it gave plenty of time to prepare for the race. I got the chance to qualify at Edinburgh 70.3 where I picked up a slot to take part in the race. A great opportunity as I was traveling over anyway.
The World Championship race was split over 2 days with the female race on Saturday and the male race  the next day, Sunday.
The course was going to be tough with an 850 mtrs up river swim, a bike route with 1000 mtrs elevation gain and most of this over 30 km early into the bike. There were some very scenic views cycling up into lookout mountain! This was  followed with a 2 loop  run route with 300 mtrs of elevation….mix this with temperatures up on 30 deg and very high humidity, a tough race was on the cards, but then it is World Championships after all!
The atmosphere was incredible in the days leading up to the race and race day was electric as the female pro's got things underway on day one. Sandra got going into the swim first and covered the distance in 40:51, biked a solid 3:31, and glad to be back into transition trouble free she headed out onto the tough run course running a 2:11 half marathon crossing the line in 6:32.
Next up was Siobhan, swimming 46:50, not her favourite discipline she quickly got to work on the bike and made up some places fast. She finished her AG biking 6th fastest time in 2:58 moving her to just outside the top 10. She then went on to post the 2nd fastest run time in the AG of 1:44 finishing 9th in AG in 5:39 a great achievement at this standard of competition.
Super race organisation and a quick turn around to get ready for Day 2 the mens race. I was away first after the pros, into the water and swimming 37:33, cycle of 2:36 and running 1:36, finishing just inside the 5 hrs in 5:59.
John Hayden was next off, he continues to make good progress on the distance and had a great race. He swam 34:54, followed by a great bike of 2:31 and then finished this off with a 1:29 run stepping over the line in 4:44, a super race.
Eoin Lyons taking part in World Championships for the 2nd time was away next, swimming a top 3 swim time of 26:39 putting him in the mix from the start. Getting to work on the bike and biking a 2:25 he finished off with a 1:26 run time, finishing 20th in AG in 4:24. With less than 3 min from 20th place to top 10 in this highly competitive AG a great result and no doubt he will be back again to World Championships.
Great results from everyone and great to be flying the flag at this standard of racing on the international stage.
Dungarvan Triathlon
Tried and Tested Tri club stepped up this year from their annual Sprint race and hosted both Olympic distance and Sprint race this year. There was a good representation from Focus on Fitness at both races. Eamonn Ryan was 10th overall in the sprint finishing in 1:20, Nigel O'Sullivan was next in 1:30, Peter Whelan getting in another race to finish off the season finished in 1:40.
Ciara Mc Sweeney finished 1st in AG and 4th woman in the sprint race in 1:29 another great result.
The Olympic race is a welcome distance on this side of the country with a lack of Olympic races locally. Tony McMahon was first from Focus on Fitness in 2:33.20 with a sprint to the line with Ken Dickenson who finished in 2:33:22. Fintan Stanley was next in 2:44, Ger Nolan crossed the line in 2:49 and James Roche in 2:55.
Colin Dunne took on an Olympic for the 1st time and finished in 3:03 and Richie Daly finished off with a first time Olympic distance race in 3:10.  Well done to Tried and Tested, putting on 2 great races.
Ironman Wales
Martin Mizgajski got back into triathlon this year, he has had some good results during the season and is progressing all the time.  He took on the challenge of one of the toughest Ironman races on the calendar, Ironman Wales.
Based in Tenby it is a convenient race to get to from Ireland but has a reputation as one of the toughest bike and run courses with 2,000 mtrs of elevation on the bike course and 500 mtrs on the run course. Martin had a  good swim in 1:04, then headed out onto the tough bike course, covering the distance in 6:09.
The run is on a 4 lap loop with a a big climb on each loop it is nothing to be looking forward to. Martin completed the run in 3:49, finishing the race in 11:15 and finishing out a very successful return to triathlon.
Dara Fitzpatrick Memorial Run Waterford Airport
This 5 km charity run in aid of Touching Hearts and South Eastern Mountain Rescue was organised as a tribute to Dara Fitzpatrick who was based out of Waterford Airport for 10 years. It was an opportunity to run on the airport  runway as part of the race. It was a family affair with Thomas Mooney (little Tommy my nephew) running a great 20:35, Gerard Mooney was next in 23:00 with Mammy (Catherine) in 23:00. Richie Daly was next in 24:38,  Peter Whelan in 24:49 and Lorena Mooney 24:54.
Lost Sheep Half Ironman, Kenmare
The Cork Tri club hosted race is a must do race for any triathlete in their triathlon career. It takes in some of the most scenic views Kerry has to offer but is not for the faint hearted as it is one of the toughest races on the calendar. Darrell Evans took on the Half Ironman distance for the first time choosing Kenmare as the race of choice.
The 1.9 km swim in Kenmare bay, is followed by the 52 mile bike ride over the Healy Pass, Caha Pass and back to Kenmare. The run is another tough route, with a lot of hills out into the Kerry countryside looping back to Kenmare to the finish.
Darrell had a great race  swimming 36:12, cycling a great 2.45:37 and running 1:42:17 finishing in 5:10 and 5th in his age group.
Invacare League Round 8
Round 8 of the Invacare TT league  hosted by Blarney CC was held out of Rathpeacon School.
Seamus Wall and Damien Vereker  both fresh back from the World Championships in South Africa were competing to finish out the season. Damien piloted by Dermot Radford finished in 29:23 winning the tandem category and Seamus stopped the clock in 43.06 taking 2nd in the hand bike category.
Both lads taking the yellow jersey for the league this year.
Charleville Half Marathon
Charleville International Half Marathon is a great lead race into the Dublin Marathon. A fast course with an even better after race tea and cake! Nigel O'Sullivan was first from Focus on Fitness over the line in 1:43 running a PB. Aileen Windle ran 1:59 running a PB and breaking the 2 hrs for the first time. Ciara Fitzgerald ran 2:06 also running a best time over the distance. Both Ciara and Aileen were using the race to work towards the Dublin Marathon.
JJ Reddy Danesfort Run 2017 – Half Marathon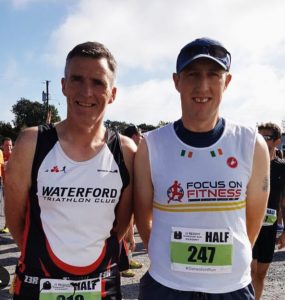 Another local half marathon new to the racing calendar the JJ Reddy Danesfort Half Marathon. Brendan Mooney and Ger Nolan  ran the race, Ger using it as a lead in race to Dublin  Marathon. Brendan ran 1:33 on the day and Ger stopped the clock at 1:52.
Ironman 70.3 Weymouth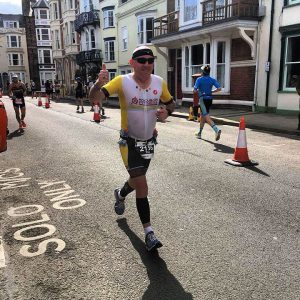 One of the last races on the Ironman calendar, Ironman 70.3 Weymouth is based in the popular seaside resort on the South Coast of England.
Tim O'Brien having completed Dublin 70.3 in August this year decided to get another race under his belt and headed to Weymouth. Unfortunately Tim had some stomach problems and had trouble keeping down any food during the race, not ideal in any race but very difficult over this distance.
Tim kept going, finishing the race in 7:42 and survived to race another day, these are the days that make you stronger.
Dublin Half Marathon
The SSE Airtricity Half Marathon took place in the new venue of Newbridge Demesne this year.
The new route caused some early problems and the race start had to be postponed for a few hours to deal with traffic problems and parking.
This caused a few problems for athletes with race preparation and nutrition before the race start. Rhona Hayden was using the race as a build up race for the up coming Dublin marathon and ran a solid 1:59 on the day.
Ironman Italy
Jim O'Brien had a very busy 12 months but found the time to take on Ironman Italy. A new race on the Ironman calendar based on the coast of  Emilia-Romagna in the fishing village of Cervia, a fabulous setting for the inaugural race.
The race started with the 3.8 km swim in the calm waters of  Romagna. Jim had a great swim coming out of the water in 1:19 and getting going on the 2 lap bike route.
The conditions were very windy on the exposed course and Jim biked a time of 6:01. Next the small issue of the marathon to complete.
Jim ran 4:53 crossing the line in 12:35. Another great race completed for Jim, supported by Grace on the day  after what was  a tough year.
Ironman Chattanooga
Following on from the Ironman 70.3 World Championships I headed back to Chattanooga to take part in the full Ironman race 2 weeks later. I will write a race report on this separately and it will follow shortly.
Vadrajford 5 mile
This 5 mile road race is gathering momentum and proving to be a popular local race year on year. Ciara Mc Sweeney  was the first athlete from Focus on Fitness home and 2nd female overall, running 35:11 and continuing on with some great results this year. Ann Hennebry was next in 39:42, and Peter Whelan who ran 40:38.
Rathfarnam 5k
Richie Daly finished out the season on a high, achieving all the goals that he set out at the start of the year.
This was another good result for Richie running 23:15 and setting a PB for the distance.
Time to set out some new goals for next season after such a successful year.
Croppy Boy 10k
A new local race in the beautiful area around Passage East, there was a 5km and 10 km option on the day. Fintan Stanley represented Focus on Fitness and ran the 10km race in 52:47.
Killary Fjord Swim
This is one of the last opportunities for an long open water swim as the season closes out for this year.
This unique swim in the cold waters of the fjord, surrounded by the mountains of Galway and Mayo has the option of 750 mtrs, 2 km and 3.9 km distances. Nigel O'Sullivan, Jim O'Brien and Neil Griffin made the journey west to Connemara to take on the 2km swim.
Jim was out of the water in 49:24, Neil was next in 51:37 and Nigel in 56:31. A great finish to a busy season.
Ironman Barcelona
This was the big race for many this year. Last year 15 athletes from Focus on Fitness competed and finished. This year 12 athletes from Focus on Fitness took on the race, 9 of these were first time doing full Ironman distance, all finished.
I will write a full report on this to follow shortly as it is such a big event for so many who done the race.
The 2017 season has been great at Focus on Fitness, with some great results and personal achievements for all. It is coming to that time to start thinking about 2018. If you have any goals in mind give me a call and we can get a plan together.

Final details and dates for Focus on Fitness Training Camp in Lanzarote next April were also announced during the month. This week is open to anyone interested in training hard and improving their racing in 2018.
I can be contacted through email or social media if you have any questions.
 Martin