Ironman Season kicks off for Focus on Fitness with Ironman Barcelona 70.3 and Ironman Austria 70.3, St Pölten. Valerie Archegia continues with her ultra racing in the USA and locally the evening racing scene is in full swing.
Portlaw 5 Mile
Race 2 in the Carrick on Suir Summer Series was the Tom Jordan 5 mile in Portlaw. This is probably one of the fastest 5 mile road races in the Waterford and perfect conditions on the night  lead to some fast times.
Shane Power had a great race finishing in 5th place running 28:06. Jason Travers was next with another great time finishing strong in 28:51 (9th), I was next in 28:59 (10th) chasing Jason to the line and winning AG. David Devine was next in 29:50, Ken Dickenson finished in 31:42, Mark Gater was next in 32:07. Tomás Mooney finished in a great time of 33:01 taking 3rd junior stepping over the line ahead of dad Brendan in 33:02. John Paul Williamson was next in 33.26, Ciara Mc Sweeney won her AG finishing in 34:04, James Roche finished in 34:05 taking 2nd in AG, and Ciara Fitzgearld finished in 44:21.
UCI Paracycling World Cup
Seamus Wall was on the move again this month, racing internationally at the UCI Paracycling World cup in Ostend Belgium. Seamus had  two events on the schedule, and a new bike out for the first time.  The TT was the first event and Seamus stopped the clock on 34 min and finished in 21st place. The 46 km road was next 2 days later and Seamus finished in 22th place.   

Limerick Half Marathon
The Great Limerick Run consists of a Marathon, Half Marathon and 6 mile race. It is a very popular race taking in the streets of Limerick and the grounds of UL. Up on 12.000 runners race across all distances. Great weather on the day caused its own problems with very hot conditions for the race. Racing the Half Marathon Brian Jacob finished in a time of 1:29, Stephen Collins was next in a time of 1:33. Katie Jacob ran the 6 mile race and had a great race  finishing in 53:20.
Tinahealy Duathlon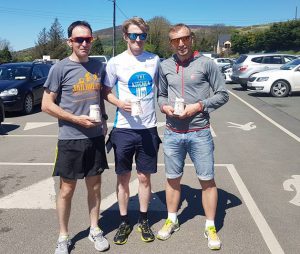 One of the last duathlons of the year was hosted by Tinahely Tri Club. Martin Mizgajski had a great race finishing 2nd overall and continuing on with some great results this year so far.
Co. Wexford Novice Road Race Championships
Martin Mizgajski took to the start line again for the county novice road race hosted by United Striders in Camross. Another great result for Martin finishing 2nd overall in 20:54, a narrow 11 sec behind the winner.
Saltflats 50 Mile, Utah, USA
The Salt Flats 50 mile Endurance Run is raced on the Salt Flats of Bonneville Speedway, Utah. This a premier event, and the weather for this event can be anything from sunshine and hot conditions to snow and near freezing temperatures. Valerie Arechiga was taking part in the race as a build up  to the River of No Return 108k endurance run which takes place this weekend.
Valerie set out sticking to the plan and pace. Her patience paying off she had a fantastic race finishing 3rd overall and 1st female finishing the 50 mile in 8 hrs 49 minutes.
These races look amazing with extreme conditions and spectacular  scenery, definitely not for the faint hearted.
Splashworld 10k
The annual Splashworld 10 km road race took place with great racing conditions, allowing for fast times. The 2 loop course around the promenade in Tramore attracted great numbers.
Eoin Lyons had another great race building up for triathlon season coming up finishing 2nd overall in 33:24, a super time for the distance. Shane Power was next in 11th place having a very consistent season so far running 36:18, Jason Travers was close behind in 12th place in 36:22, I was next in 36:47.
Brian Jacob was next finishing in 38:55 followed closely by Mark Gater in 39:05, Liam Carey was next in 41:13, Brendan Mooney was next in 41:33 and Tomas Mooney 41:34. Jason Rosey crossed the line in 43;49, Ian Stenson 44:58, Steve Wilmot finished in 45:39, Tom Brown 45:56, Neil Griffin 47:35, Julie Monaghan 49:56, Bernie Mockler coming back from injury finishing in 50:56, Peter Whelan finished in 51:03, Anne Hennebry in 51:07 winning AG, Bob Cowman 51:57, Sandra Hayden 52;16, Emer Mc Sweeney finished in 52:23 followed by Jill Stafford in 52:24, Katie Jacob finished in 52:46.
Invacare league
Round 4 of the Invacare Paracycling league hosted by Barrow Wheeler's took place in Ballinaboola. Seamus Wall took part in his home and club event. Seamus stopped the clock in 33:33 taking 2nd place in the hand-bike category.
Castlecomer Half Marathon
The Searlait Tywang Memorial Half Marathon in Castlecomer. David Devine had another great race finishing 2nd overall running 1:25, a great time for the distance.
Ironman Barcelona 70.3 🇪🇸
The Ironman season kicked off for this year with two Focus on Fitness athletes competing in Ironman 70.3 Barcelona. Warm weather and a tough bike course both technical and with 1,200 mtrs of climbing meant a tough day lay ahead. Paula Roberts (Castlehaven Tri Club) coming back from injury after a crash of her bike in training was delighted to make the start line. Paula had a great race considering this and finished in a time of 6:42.
Marie Slattery (KK Tri Club) was delighted to make the finish line after being taken down on the bike on one of the faster descent sections when another competitor crashed into her. She was lucky to be able to get going again and finished the race, not as planned but crossing the line in 6:49.
Blackwater 10 mile
The Blackwater 10 mile road race  in Fermoy took place on May 20th. Karen McNamara took part in what is a local race to her. She  crossed the line in 1:52.
Lough Cutra Triathlon Series
This was a massive weekend of triathlon with up on 20 different races held over the weekend at Lough Cultra Castle in Gort Co. Galway. Ian Grehan took part in the 2.5 km swim early in the day winning the race comfortably in 40:37. He later went on to compete in the team relay with his club Belpark Tri, they won the relay overall. Don Ryan took part in the Olympic Distance race and finished in 2:39, Karen McNamara also took part in the Olympic and finished in 3:26.
Ironman 70.3 St Pölten
The next Ironman 70.3 was in St Pölten in Austria. Anthony Kirwan was taking part in a build up to full Ironman later on this year. One of the oldest and most popular 70.3 races in Europe with a unique swim as it is divided between 2 lakes. The bike has over 1,000 mtrs of climbing with some fabulous scenery on route. Warm conditions on the day tested everyone especially on the run and these conditions were new for Anthony. He had a great race building confidence for later in the year finishing in 5:32:57.
Well done to all Focus on Fitness Athletes, some massive results and more to come.
#throughdedicationsuccesswillcome
Booking for Focus on Fitness Lanzarote Training Camp 2019 is open.
If interested please call Martin for info.
Check out video below from #FocusLanzarCamp18
I can be contacted through email or social media if you have any questions.  Martin
CLASS SCHEDULE
**OPEN TO ALL**
Track Session Tuesdays @5pm @RSC, Waterford
If you have any goal races or need help with training give me a CALL