A busy March at Focus on Fitness!
After a slow start due to the snow Focus on Fitness got busy with everything from Duathlon, to 10 milers, Para-Cycling, Adventure and Endurance Events. Athletes have been racing all over Ireland, England, France and the USA.
Cambridge Half Marathon 2018
Kate Nolan had a great run in her home from home half marathon; The Saucony Cambridge Half. This race is in its 7th year with a massive 9,000 entrants on the day.
Kate crossed the line in 1:40:07
National Invacare Paracycling League, Round 2
Round 2 of the Invacare league was held in Athlone, hosted by Shannonside Cycling Club. The 16 km TT took place on an out and back, rolling but fast  course. Seamus Wall finished in 2nd place covering the distance in 29:13. He was using the race as a build up to the 1st European Race in Rosenau France.
Quest Adventure Race, Kenmare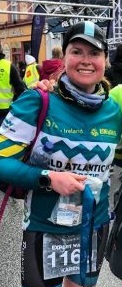 The quest Kenmare race is a new event in the Quest Race Series. Karen Mc McNamara took on the expert 67 km race.
The 6 stage race consisting of a 20 km bike, 6 km run, 36 km bike, 6 Km run, 1 km kayak, 3 km run. The weather on the day was bad which always makes an adventure race a great day out!
Karen finished the race in 4 hrs 9 min.
National Duathlon Championships, Letterkenny
The highlight of the Duathlon calendar is the National Championships. This year the Championships was held in Letterkenny, Co. Donegal, and was hosted by 247 Tri club.
Five athletes from Focus on Fitness made the long trip up north to take part on the day.
The race started very fast with the 10 km run, the pace was blistering from the gun. The 40 km bike section followed, on a 2 lap out and back course.
The final run was 5km.
Shane Power finished in 16th place in a time of 2:00:56, next was Jason Travers taking 2nd in AG and a time of 2:05:51, Brian Jacob was next in 2:09:09, Siobhan Kennedy winning her age group in 2:25:15 and Nigel O'Sullivan finished in 2:28:30.
Kilsheelan 10 Mile
Another new 10 mile road race this year, in Kilsheelan, Co. Tipperary. This is a great distance and it is always welcome to see more of these distance races coming up all the time. There was a strong field on the day and with a rolling course it was set up for some good racing.
Anthony Kirwan had a great race finishing in 1:07:46, next was  Anthony Hughes in 1:13:44, Steven Willmott 1:20:33 and  Peter Whelan 1:27:49.
St Laurence O'Toole Fit4 Life
David Devine took on his home town event; The St Laurence O'Toole 10 km road race held in Carlow . David had a great result finishing 3rd overall in a time of 38:10.

Dungarvan 10k
The Deise College Dungarvan 10km road race took place on  March 11th. The start of the spring road races that will be coming up over the next few months, plenty of opportunity to get some pace back in the legs.
Local man Mark Radley ran a great race of 39:54, taking 10th place overall, Stephen Collins was next up in 42:33 getting prepared for Mallow 10 mile.
The Laurels Charity Bike Run
This was a great novelty event on cold St Patricks Day morning. It consisted of a 20 km bike followed with a 5 km hilly run route.
This was all made worth while with the cake and coffee that followed after the event. Myself, Siobhan Kennedy, Brian Jacob and Peter Whelan cycled up to Stradbally, took part and cycled home.  Well done to all involved in organizing this event..
Dunhill Fenor 10 mile
This is a new race on the calendar, organised by The Saturday Road Runners. A 10 mile road race for Crumlin Childrens Hospital.
The race had to be postponed due to the snow earlier in March and nearly had to be rescheduled again. Thankfully the weather held on the day.
This is a fast course on a rolling route but windy conditions on the day made for some tough running. Eoin Lyons continued with some great running in prep for the upcoming triathlon season, coming 2nd overall running a fantastic 56:22. Martin Mizgajski was next in 9th place in 1:01:03, followed very closely by Shane Power in 11th place in 1:01:08.
Brian Jacob ran another PB for the distance running 1:03:01, I ran 1:03:24, David Devine, 1:04:34, Ken Dickenson crossed the line in 1:09:24, Siobhan Kennedy was next in 1:09:36 finishing 3rd overall,  Ciara Mc Sweeney 3rd in age group finished in 1:15:56 followed very closely by James Roche in 1:15:57, Julie Monaghan ran a PB for the distance in 1:19:41, next was  Ger Nolan  in 1:21:29, Peter Whelan in 1:27:15, John Roche in 1:28:38 and Maggie Murphy finished in 1:29:01. Hopefully this will be a regular event on the race calendar.
Pulse Endurance

 Runs 12 Hour Run, Boise, Idaho
Valerie Arechiga kicked off a busy weekend of racing and continued on with another big endurance race. This time the Pulse Endurance 12 hr race in Boise, Idaho. With a 48 hr, 24 hr and 12 hr option available over the weekend Valerie settled on the 12 hr race.
This was a 3 mile loop and the most distance covered in the time is the winner of the race. Valerie had a great race  coming 2nd overall and covering a massive 63 miles, over 2 and half marathons in the 12 hr time period.
This is another great result in a build up to bigger races later on in the season.
Ennis Duathlon
Karen McNamara had a busy weekend in the West of Ireland. starting on Sat with the Stephen Roche Atlantic Challenge 100 km sportif in Ennistymon, Co. Clare. To make the most out of the weekend Karen then took part in the Ennis Duathlon on Sunday finishing in 1:16:14.
West Cork Tri Duathlon
The same weekend the West Cork Tri Club duathlon took place in Clonakilty.
Focus on Fitness had 5 athletes  travelling to the race on one of the brightest, sunniest days we have had this year.
Shane Power from Dungarvan Club, Tried and Tested TC had a podium place finishing 3rd overall in a time of 59:21.
Jason Travers, also Tried and Tested was next in 4th place, also winning his age group in 1:00:05. Brian Jacob had a great race finishing 8th place and 2nd in age group in 1:02:19, I finished in 1:07:14 and Siobhan Kennedy finished 4th female winning her age group in 1:13 after having a mechanical problem on the bike.
Mallow 10 Mile
The Mallow 10 Mile, another one of the big 10 mile road races was a sell out.
Focus on Fitness had 6 athletes take to the start line on the day.
Don Ryan was across the line first in a time of 1:05:33, Stephen Collins ran a PB in 1:07:51 and there must have been a sprint to the line with Eamon Ryan who came  in 1:07:54, Nigel Sullivan ran  1:18:40, and was again closely followed by Julie Monaghan, running another PB in the same week, finishing in 1:18:57, Bob Cowman making great progress crossed the line in 1:27:04.
Kilkenny City 5k
The Kilkenny Harriers Streets of Kilkenny 5 km race took place on Thurs the 29th. This new race attracted some big numbers with over 500 at the start line. David Devine, Anthony Hughes  and Marie Slattery took part in the race. David finished in a time of  18:19, Tony ran 20:10 and Marie had a PB of over 90 sec for the distance finishing in 21:53
EHC Handbike Race, Rosenau, France
The first round of the European Hand Cycling in Rosenau, France took place over the Easter weekend. Seamus Wall was taking part in the 44 km road road race and had his best result so far finishing a fantastic 10th place.
A great start to the season and more hard work can only get better as the season goes on.
Boise Spring Breakout Series  Road Race, Idaho
Valerie Arechiga who the previous week completed a 12hr endurance race, went back to the bike to take part in the Boise Spring series road race. It was going to be difficult judging how the body was going to recover from the previous weekend. The long run training obviously carried  over well into the bike as she had a great race finishing 2nd overall.
April has already kicked off with some massive results
and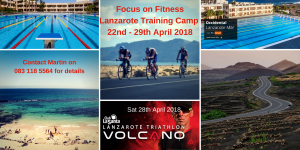 I can be contacted through email or social media if you have any questions.
 Martin
CLASS SCHEDULE
**OPEN TO ALL**
Functional Movement Class Monday @7pm in @WITARENA
Track Session Tuesdays @5pm @RSC, Waterford
If you have any goal races or need help with training give me a CALL