Ultra Trail Runs in the USA, Marathons, Duathlons, Ironman 70.3 European Championships and Triathlons
Cork City Marathon
The Cork city Marathon and Half Marathon took place on the June bank holiday weekend. It was a sell out race again this year with perfect run conditions on the day for the 26.2 mile tour of the city.
Gerry O'Donoghue was taking part in his first marathon and was delighted to finish in 3:54:48.
David Campbell ran the half marathon and finished in 1:42:56.
Hardman Olympic Dingle
This new race on the calendar is based in the beautiful Dingle Peninsula.
The Olympic Distance race consists of a 1,500 mtr swim in Ventry harbour followed by a 40 km bike around Slea Head taking in some fantastic scenery.
This was followed by a 10 km rolling run route finishing back on the beach.
Martin Mizgajski and Colin Dunne took part in the race.
Martin took a podium position and finished 3rd overall in  2:09:53  and Colin finished in 3:31.
Hillfest Duathlon
The Hillfest Duathlon in Watergrasshill Co. Cork is one of the last duathlons of the season.
Jason Travers travelled to Cork for the event and had a great race finishing in 2nd place overall in 55:41.
Jason is having a super season as he builds up to the world duathlon Championships in July.
Deadmans 5 Mile
The Carrick AC Deadmans 5 mile road race is race 3 of the 3 Counties Challenge Summer Series. Shane Power took part in the race and finished a great 6th in a time of 28:34 following on from some great results this year as he too builds up to the World Duathlon Championships in July.
TriAthy
One of the big races on the triathlon calendar every year with 4 different distances covered on the day everyone is catered for. Having competed in the race many times this year had to be one of the most organised and enjoyable years.
Double Olympic
The first race of the day the Double Olympic distance race had an early start at 8 am. 5 athletes took to the start line for this race and all will be competing at full Ironman distance this year.
Ian Grehan (Belpark Tri club) was using the race ahead of Ironman Copenhagen later on this summer. A good start to the day leading the swim and 1st out of the swim, he had a good solid race crossing the finish line in 4:46 and 4th in AG.
John Lynch (Tried and Tested) was next, first time racing this distance and new to triathlon.  Johnny is  building up to Ironman UK in 6 weeks and finished strong in this race with a great run finishing in 4:53.
Siobhan Kennedy was next also using the race as a recce run for Ironman UK. She finished 2nd in AG in 5:46. James Roche (Waterford Tri) stepped up to the longer distance event, first time racing at this distance, building up to Dublin 70.3. He  finished in 6:18. John Roche (Tried and Tested) was next, again building up to Ironman UK and coming back from run injury he finished in 6:24.
Bob Cowman (Waterford Tri) was next getting back to long distance racing having a great season so far working towards Hardman full distance this year, Bob finished in 6:28.
Try A Tri
A great opportunity for anyone new to triathlon and getting started into the sport. Liam Carey  took part in this race to get a race under the belt and some triathlon experience. Liam finished 16th overall and 3rd in AG in a time of 1:06.
Sprint Race
The next race  was the Sprint race. Another good turn out in this race from Focus on Fitness and more good results. David Devine (Waterford Tri) finished 8th overall, winning his AG  in a time of 1:07:38.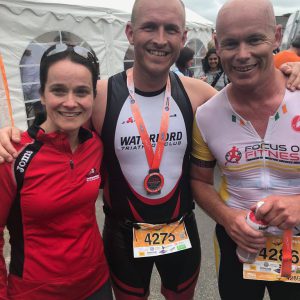 Ciara McSweeney (Waterford Tri) had a great result  with a podium finishing 2nd female overall in 1:16:19,  Sandra Hayden (Waterford Tri) was next getting back to racing finishing in 1:30:24, Tim O'Brien (Waterford Tri) had a PB finishing in 1:33:20 coming back from injury, Ciara Fitzgerald was taking part in her first triathlon and finished with a  great race in 1:47:35.
Olympic Race
The last race of the day was the Olympic Distance race and more great results in this race. Eoin Lyons (Waterford Tri) taking the lead from the start and winning the race overall. He had a comfortable 5 min margin crossing the finish line in 2:00:34 a good result leading into the 70.3 European Championships coming up next weekend. I was happy with 4th place overall, winning AG and finishing in 2:12:04, Brian Jacob finished 8th overall in 2:16:55 and coming 3rd in AG. Ken Dickenson was next in 2:28:29 getting more race experience at the longer distance. Neil Griffin finished in 2:30:31 with a great swim and bike section in the race, Jason Rosy was next in 2:34:52, Marie Slattery (KK tri club) took 2nd in AG and finished in 2:39:43, Nigel O'Sullivan (Waterford Tri) in prep for Ironman 70.3 European championships finished in 2:43:52, Bernie Mockler (Waterford Tri) getting back to racing from injury finished in 2:52:13, Katie Jacob (Waterford tri) was next in 2:53:57 getting ready for the 70.3 World Championships.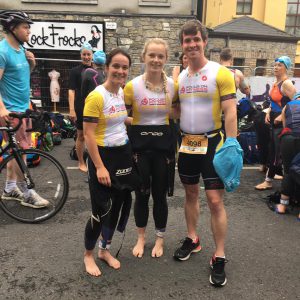 Richie Daly (Waterford Tri) was delighted with the race finishing in 3:03:44, Peter Whelan finished in 3:10:45 building up to Dublin 70.3, Karen McNamara (Blackwater Tri Club) finished in 3:15:10.
Some great results from the race with overall, top 10 and AG places, well done to everyone.
Fastnet Triathlon
Schull in West Cork was the venue for the Fastnet Triathlon. The national series sprint distance  hosted by Schull Triathlon club is a long running event and very popular on the race calendar.
Ann Hennebry and Norma Goggin made the trip west to take part in the race. Ann finished in 1:34 and Norma finished in 1:44 winning her AG.
Wicklow 200
This is one of the longest running Sportif's in Ireland attracting up on 3,000 riders  taking them over 200 kms through the Wicklow Mountains with some of the biggest climbs in the country.
Ian Stenson took on the 200 km challenge and Karen Mc Namara took part in the 100 km option on the day.
Munster TT Championships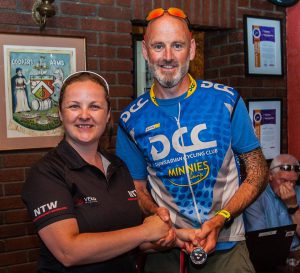 North Tipp Wheelers was the host club for the 2018 Munster TT Championships. The 30km out and back fast course started in Birdhill  heading towards Nenagh.
Jason Travers took part in the A4 catergory and took silver in a time of 43:13.
Ironman 70.3 European Championships
For the second year the Ironman European 70.3  Championships  was back in Elsinore Denmark. The 1,900 swim, 90 km bike and finishing with a 21.1 km run through the city centre. Eoin Lyons and Nigel O'Sullivan took part in the race. Eoin finished 11th in his AG in a fantastic 4:10. At this end the standard is very high, with incredible fast times on each discipline. Eoin dropped a drink bottle on the bike section and losing valuable nutrition cost him some time and position in the race….there will be more races.
Nigel had another good solid race finishing 5:38:39. Nigel will be back in Denmark  for Ironman Copenhagen coming up in August, this was great preparation for the upcoming race.
Invacare League Round 5
The 5th round of the Invacare League was hosted by Upperchurch Drombane CC and based out of Littleton Co. Tipperary. Seamus Wall was taking part in the H4 handbike category. Seamus covered the 16km course in 18:22 finishing 2nd the category.
Rebel Plunge
The Rebel plunge is a 3.8 km swim held as part of the Harbour festival. The swim went from the Port of Cork to Blackrock village. Don Ryan took part in the swim and finished in 56 min, good preparation for Ironman coming up later in the year.
Lough Derg Sprint Triathlon
Nenagh Tri club Lough Derg sprint triathlon is held in Dromineer. Conditions were a little windy on the day but it is a super location, Ken Dickenson is having a great season  and finished in 16th place overall in 1:11.
The Mile Marker
The Mile Marker, a new fast, flat 5 mile and 10 mile road race  in Danesfort, Co. Kilkenny. Shane Power finished a credible  4th place in 1:00:08 followed closely behind by Jason Travers in 1:00:20 both so close to the 60 min marker, next was Stephen Butler in 19th place in 1:07:09, and Marie Slattery 1:20:57.
River Of No Return Endurance Run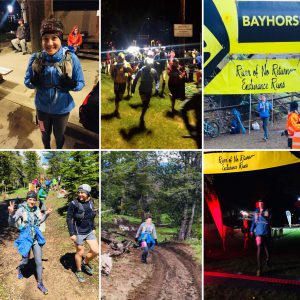 Based  in Challis, Idaho, the River of No Return (RONR) 108 km Endurance Run takes the  runners through Idaho's remote and scenic countryside. This was Valerie Arechiga big race of the year, having had some great results this year already with some endurance races. The figures on this race are astonishing, 108 km distance with 17,000ft of elevation gain over the distance. Most of the course is off road on trails with several river crossings.
Valerie took on the challenge 2 years ago but didn't make the finish that year. This year she wanted to finish the race within the 21 hour cutoff time. The training over the last 8 months worked out very well and she had a great result again finishing in 17:32:48, in 12th place overall and 2nd female. A full report in Valerie's own words will follow.
Hook Or By Crook, Waterford Triathlon Club
Fabulous weather and perfect race conditions set the scene for the Hook or by Crook triathlon hosted by Waterford Triathlon Club in Dunmore East. A massive turn out of over 600 athletes crossed the start line for the national series sprint race.
Focus on Fitness was well represented on the day with some good results.
I finished in 16th place winning AG in 1:10:42, Brian Jacob was next in 1:13:22, Ian Grehan 1:16:30, Mark Gater competing in his 1st triathlon finished in 1:18:38, Tony McMahon 1:25, Marie Slattery 1:25:32 coming 2nd in AG, Dave Campbell 1:26:10,  Anthony Kirwan 1:26:55, Jennifer Hennebry 1:32:01, Gerard O'Donoghue 1:32:40, Liam Carey 1:32:47 taking part in his 1st sprint race, Maggie Murphy 1:33:29, Katie Jacob 1:33:58, Ann-Marie O'Keeffe 1:39:55, Siobhan Keating 1:46:18, and Deborah Forristal 1:59:08.
Well done to everyone and all involved in Waterford Tri club, a great race well organised and a super location.
Donegal Atlantic Way Ultra Race
The 555 km route follows the Wild Atlantic Way around the stunning coastline of Donegal. Competitors depart Letterkenny and take on some of the most scenic roadways to be found anywhere in the World.
The route takes you past Malin head, Mamore Gap, Knockalla, Atlantic Drive, Horn Head, Carrickfin, Glengesh Pass, Sliabh League and Barnesmore Gap.
The option of solo, 2-3 person team, 4 person or 6-8 person team gives cyclists a chance to step up to longer distance endurance race. Kevin Ryan took part as part of a team of 2 with Neil White (Team Arch coffee) this was their 1st time taking part in the race or something of this size.
They covered the distance in 24 hrs 43 min 04 secs.
The Pikeman Olympic Distance
The Wexford Tri Club Olympic Distance Triathlon made a welcome return to the race calendar this year after an absence of five years The weather was perfect with temperatures  in the mid 20's and Rosslare was looking at its best. A 1 pm race start gave plenty of time to relax before the race start and to soak up the atmosphere.
The 1,500 mtr swim, 40 km fast bike course and 2 loop rolling run route was waiting for the near 300 athletes, a good representation from Focus on Fitness again on the day.
Martin Mizgajski crossed the line in 2nd place overall in a time of 2:02:34 at his home event.
I was 4th in 2:03:51 winning AG.
Team Tried and Tested "team Ni'n'Ja" finished 8th overall with Jason Travers turning the wheel and doing the run in 2:05:47 taking 2nd in the relay event, next was Shane Power in Tried and Tested team "just for the LoL's" setting the fastest bike spilt of the day, 3rd relay in 2:11:36.
Ken Dickenson had a great race finishing in 2:15:46, David McConnell finished in 2:25:53, Neil Griffin was next in 2:30:50, Tony McMahon crossed the line in 2:31:03, Ciara Mc Sweeney, 02:31:46 was 4th female overall and won her AG, Marie Slattery finished in 2:33:02 6th overall and 3rd in AG, James Roche finished in 2:45:24 taking 3rd in AG followed closely by Bernie Mockler who was 3rd in AG in 2:45:58, Peter Whelan finished in 2:56:34.
Paracyling National Championships
Seamus Wall was competing in the National TT championships in Sligo. High temperatures on the day what seems to be the normal now made the task tougher. Seamus took silver in a time 32:35 7 sec off 2nd place some very close racing.
Waterford Viking Marathon
More extreme conditions with very warm weather was in store for the close to 2,000 athletes taking part in the half and quarter marathon. The full distance was cancelled due to the hot weather conditions, a good decision I think considering the heat. The race started in the city and done a loop of the city then heading out over the bridge and back across the river Suir over the Toll bridge and onto the Greenway. The next section was rolling through Cariganore and in through the grounds of Mount Congreve and back onto the Greenway and back to the finish in the WIT campus in Carriganore.
Quarter Marathon
Jason Travers was 1st across the line from Focus on Fitness in 45:59 10th overall and winning his AG, Ann Hennebry was next in 1:01:34, Gillian Lyons finished in 1:07:55, Richie Daly 1:06:18, Aileen Windle 1:07:37, Susan Hayes 1:14:39, Liam Power 1:17:35
Half Marathon
I ran the half distance in 1:20:49 and finished in 13th place, Martin Mizgajski was next in 1:25:14, Brian jacob was next in 1:29:35, Stephen Butler finished in 1:31:48, David Devine 1:32:10, Anthony Kirwan 1:36:29, Stephen Willmott who training for his first full marathon was dissapointed not to be doing the full distance but was happy with  1:47:32 for the half, Ciara McSweeney finished in 1:48:35, Jill Stafford ran 1;57:40, Katie Jacob 1:58:30 running a PB on the day, Peter Whelan 2:04:35, Bob Cowman 2:09:22. Well done to all involved with organisation with the race on the day.
Kilkee Hell of the West
The Limerick Triathlon Club Olympic Distance Triathlon in its 34 rd year of existence is based in Kilkee Co. Clare.
Perfect conditions this year albeit very hot set the scene for some great racing. A new 45 km bike course took the athletes out on the scenic Loop Head Peninsula and finishing with an out and back undulating run. Karen McNamara finished in 3:16:05 and Norma Goggin finished in 3:20:40 coming 2nd in AG.
Sheephaven Middle Distance Triathlon
Donegal 24/7 Tri club's middle distance triathlon is new on the Irish calendar.  The race was based out of the beautiful Downing's with the bike route taking in some of the most amazing scenery but it is a tough route on the Wild Atlantic Way.
Stephen Collins made the long journey to take part in the race crossing the line in 5:37:53.
Another great month!
Well done to all Focus on Fitness Athletes, some massive results and more to come.
#throughdedicationsuccesswillcome
Booking for Focus on Fitness Lanzarote Training Camp 2019 is open.
If interested please call Martin for info.
Check out video below from #FocusLanzarCamp18
I can be contacted through email or social media if you have any questions. 
Martin
CLASS SCHEDULE
**OPEN TO ALL**
Track Session Tuesdays @5pm @RSC, Waterford
If you have any goal races or need help with training give me a CALL