Celtic Warrior Weekend
The Celtic Warrior Weekend took place in The Lilliput Adventure Centre over the August Bank Holiday weekend. This charity event in aid of Autism research has many endurance event training options available over the three days. It is an ideal opportunity for anyone training for Half or Full Ironman distance or anyone looking for a taste of long distance before signing up.
Saturday and Sunday were the big days with Full and Half Ironman distance races available, 2 Marathon start options, and a Half Marathon on each day. Myself, Siobhan Kennedy, Bernie Mockler, Tim O'Brien, David McConnell,  Maggie Murphy and Anne Marie O'Keeffe used the weekend as a training opportunity ahead of 70.3 and Full Ironman distance races coming up in Sept.
David, Bernie, Maggie Anne Marie and I started at 6 am with a 3.8 km swim followed by between 120-160 km on the bike. Siobhan and Tim swam 2 km and biked 90 km starting at 8 am with some opting for a short run off the bike. We all ran between half marathon and 25 km on Sunday morning. With the first marathon of the day at 7 am and another at 11 am there was plenty to choose from.
There was some very impressive achievements over the weekend with some people opting for back to back Marathons and Full Ironman distance over the two days. Most impressive of all were Rex Brillantes and Juan Botella, both completing two continuous Ironman distances. They started at 6 am Saturday morning and finished around midday on Sunday  in 28:05 (Rex) and 29:30 (Juan).
This might be something to look at in the future!
Loughrea Triathlon Festival
This was also the Para Triathlon National Championships, with 25 Para athletes taking part on the day. Amanda Crotty, back racing after 2 years of injury was glad to be back on the start line of a race again. She had a very consistent race finishing in 1:56. It is great to see Para-sports continue to grow in Ireland.
Ballyduff 5 mile Road Race 
This local race in Ballyduff was the first of a number of local 5 mile races held in August. Anthony Kirwan took part in this race, a nice route with a few tough hills along the way. Anthony ran 32:24, he finished 11th overall, setting a PB for the distance. This was a good lead up to his debut at Dublin 70.3.
Blackwater Triathlon
The Blackwater Sprint Triathlon, based in Fermoy Co. Cork is  in its 10th year. Tony McMahon made the trip representing Focus on Fitness in the race, once out of the water his least favorite Tony got down to business on the bike and run and had a good race finishing in 1:20 and 6th in AG.
Round 7 of the Invacare Paracycling League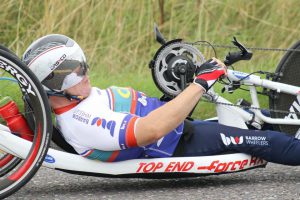 Seamus Wall was competing in round 7 of the Invacare league in Littleton, Co Tipperary run by Upperchurch Drombane CC. This was another lead race for Seamus before he headed off to South Africa for a 2 week UCI training camp, before taking part in the Paracycling World Championships. Seamus finished in 2nd place in 29.27. Damien Vereker won the tandem section, he will also be heading of to South Africa in the next 2 weeks for the Worlds.
Caroline Kearney National Standard Distance Championships 
This was held back in The Lilliput Adventure Centre in Mullingar. A great race and always popular, especially this year as it hosted the National Standard Distance Championships. Eoin Lyons and Noel O'Regan were taking part from Focus on Fitness, and with a stacked entry it was going to be a tough race. Eoin had a great swim, coming out in the lead group before heading out on the bike. He made some time on the bike and and came back into transition in 4th place before heading out on the run. It was a very close race, he held on to 4th, just 40 seconds off 3rd overall and won his AG. This puts him in a good position moving onto the 70.3 World Championships next month. Noel O'Regan also took part, finishing in 2:21, 9th in AG, a great result, and a good session as part of his build up to Ironman Barcelona next month.
Rock and Roll National Half Marathon Championships
Eoin Lyons  traveled on from Mulligar to Dublin to take part in the National Half Marathon Championships with Ferrybank AC. Eoin had another great race running 1:15 for the 13.2 miles scoring for the club which finished 3rd club in the championships. A big weekend but good confidence builder going on for the next few few weeks before traveling to Tennessee. Colin Dunne also took part in the 10 km race on the day. He also ran very well setting a PB on the course running 49:10.
Volvo Race Series Chodzież Poland
The 4th round of the  Volvo Race Series took place in Chodziez in Poland. This race is a Half Ironman distance race and is held in the home town of Marcin Mizgajski. Marcin got back into triathlon this year and this race was targeted as an "A" race for him leading up to Ironman Wales in September.
A good solid start in the swim put him in a good position going out on the bike. This is  his strongest discipline and some consistent work had him in first position early on in the bike leg and coming back into T2. He started into the run but suffered some cramping in the hot conditions and ended up just off the podium in 4th place overall. This was a great result, with only getting back into triathlon this year, the results can only get better.
Worlds End Triathlon, Limerick
Colin Dunne was racing again this weekend in Limerick taking on the sprint race. It was a tough start with the swim in the Shannon and half of the swim distance up stream. Once out of the water Colin went on to have a great race finishing in 1:27 and gaining more valuable race experience.
Ironman Sweden
Dungarvan Tried and Tested member Gareth Pope traveled to Kalmar, Sweden to take part in Ironman Sweden. The race is in its 6th year and building to be a popular race on the Ironman circuit. The swim in the Baltic sea is noted for its low temperatures. The bike ride takes the athletes over a 6 km long bridge to Öland island where they loop the popular tourist location before heading back over the bridge to Kalmar. The run is through Kalmar finishing in the centre.
This was Gareth's first time taking on the distance, he had some injury problems on the run but battled on to cross the line in a great time of 12:44.
Boston Scientific Half Marathon

This is the 8th year of the Boston Scientific Half Marathon held in Clonmel. This is always a good lead in race for anyone who is aiming to run the Dublin Marathon. Ger Nolan and Ciara Fitzgearld took part in preparation for Dublin and to gain race experience. Ger ran a solid race coming back from injury to run 1:50 and Ciara ran 2:12. A great start as the miles increase from here.
Sean Kelly Tour of Waterford

The annual Sean Kelly Tour of Waterford took place with some new sections added to the route this year. The weather conditions were bad on the day from the start but didn't dampen the enthusiasm of those taking part. Fintan Stanley took on the 160 km route and Niamh Thrihy took part in the 100 km with the tandem piloted by Stephen Davey on the day.
Tullamore Half Marathon
Tullamore Harriers Quinlan Cup Half Marathon took place on Aug 19th. Ronan Todd was competing on the day getting back into some running after Ironman Lanzarote earlier in the year. Ronan is working on getting some pace back and ran very consistent finishing in 1:56:33 using the race as a base race to build on for the winter months.
 Ironman 70.3 Dublin
This was one of the big races this year for Focus on Fitness, with an incredible 27 athletes heading to the start line, 25 individual and a relay team of 2 people.
This is the 3rd year of Ironman70.3 Dublin, and with a great location and race atmosphere on the day, the race is building in popularity each year. The forecast was exceptionally bad, with 10 mm of rain forecast. Everyone was preparing for a worse case scenario, but miraculously the day turned out to be one of the best, with perfect racing conditions. As the sun came up over Dun Laoghaire harbour you could have been anywhere in the world with flat calm swim conditions for the 7 am start. The swim is a 1,900m loop, starting in the bay at Glasthule before taking the athletes into transition on the sea front. The bike course went through Dublin City centre, on closed roads out to Kildare and Meath before returning back to the Phoenix Park to start the 21 km Half Marathon run.
There were many great results and a lot of PB's on the day.
Brian Jacob was first over the line with a great race, 4:39, a PB on the course and great preparation for Ironman Barcelona. Stephen Butler was next in 4:52, another PB, Stephen Collins broke the 5hrs in 4:55, another PB and a half marathon PB to finish off a great day, also preparing for Barcelona.
It was very close for the next three, Anthony Kirwan making the switch from GAA to triathlon and undertaking Half Ironman distance for the 1st time finished in 5:11:03, Paul Cahill also recorded a PB in 5:11:49, followed closely by Eamon Ryan, 5:11:51, only back from injury to also record a PB on the course from last year. Jason Rose followed with another PB 5:12:19, and Jim O'Brien, 5:17:02 leading up to Ironman Italy next month.
Nigel O'Sullivan had another PB in 5:28:05, followed very closely by Neil Griffin in 5:28:23, Ciara Mc Sweeney was the 1st of the Focus on Fitness females across the line in 5:36:10, another PB and 10th in AG. Maggie Murphy was next in 5:42, first time doing Half Ironman and also building to Barcelona. James Roche finished in 5:43:32, Aoife Collins finished in 5:50:51 with a PB and working towards Barcelona, Ann Hennebry was next in 6:00:17, Karen Power crossed the line in 6:03:34 with a PB, Julie Monaghan finished in 6:07:05 another PB, Bernie Mockler doing the distance for the first time finishing in 6:14:49 and also working to Barcelona, Edwina Butler finished in 6:19:39, Norma Goggin in 6:38:17, Anne Marie O'Keeffe was next in 6:42:52 a PB and training for Barcelona, Katie Jacob in 6:44:44 another PB and training for Barcelona, followed closely by Tim O'Brien in 6:45, covering the distance for the first time, Susan Hayes also completing the distance for the first time in 6:50:21 and preparing for Ironman Barcelona. Siobhan Keating took on the challenge of doing the distance this year finishing in 6:54:34. Paul Rossiter and Fiona Aglim did the relay, with Fiona doing the swim and Paul doing the bike and run they finished in 5:15 both doing the distance for the first time.

Both Brian Jacob and Katie Jacob secured much sought after places for the 2018 70.3 World Championships in South Africa.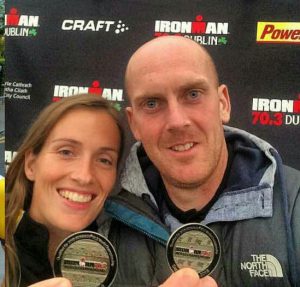 There was a big crowd from Waterford Triathlon Club who also took part in the race, with equally impressive results.
A big well done to everyone, some great results and a lot of personal best's recorded.
Multisport World Championships, Penticton, Canada
Dungarvan Tried and Tested club member Jason Travers made the trip to Penticton, British Columbia, Canada to take part in the Standard Distance Duathlon. The race consisted of a 10 km run, 40 km bike and 5 km run. Jason had a great race with a 37.50 10 km, 1:01 on the bike for 40km and 19 min for the 5km off the bike finishing in 2:02 and 9th in age group. A great experience!
Sanofi 5 mile Road Race
The  Sanofi 5 mile road race in aid of MS is establishing itself as a popular local road race each year. It is a fast course in general with Olivers hill at mile 1 it settles the pace. This year the race was won by local WAC athlete Frank Quinlan.  Focus on Fitness was well represented with David Devine across the line in 31:07, Darrell Evans next in 31:57, winning his age group, Thomas Brown 37:11, Nigel O'Sullivan 38:35, setting a PB for the distance, followed closely by Ger Nolan in 39:00, Eimear McSweeney 40:44, Aileen Windle 42:36, and Ciara Fitzgearld 45:02.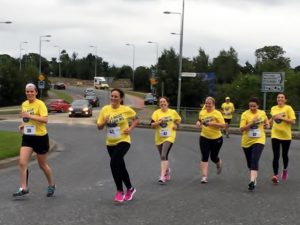 I had a group of 5 ladies from Sanofi who took on the challenge to compete the race, they went from couch to 5 miles in 5 weeks to be ready for the race. Louise Deane and Catherine Bernos finished in 51:58, Claire Croke 52:15, Amy Brennan and Tracy Tobin 52:46. It was a great achievement for each of them to cross the finish line and I was delighted to have been part of it.
Tri the Hook Sprint Triathlon
Another local race located on the Hook Peninsula in Co. Wexford. Conditions were good on the day, with a good swim to start the proceedings. Marcin Mizgajski took part after traveling back from Poland the day before. He had another great race finishing 2nd overall in 1:13 another race leading up to Ironman Wales.
Maggie Murphy was taking part in her home event and had a great race, winning age group and 4th female across the line in 1:29:24, Ken Dickenson was next 10 sec behind Maggie in 1:29:34.
Paul Rossiter and Fiona Aglim took part in the relay team, Currahee, finishing 2nd relay team in 1:28:15
Another busy month at Focus on Fitness, with some great results and personal achievements for all.

Final details and dates for Focus on Fitness Training Camp in Lanzarote next April were also announced during the week. This week is open to anyone interested in improving their racing in 2018.
I can be contacted through email or social media if you have any questions.
Martin