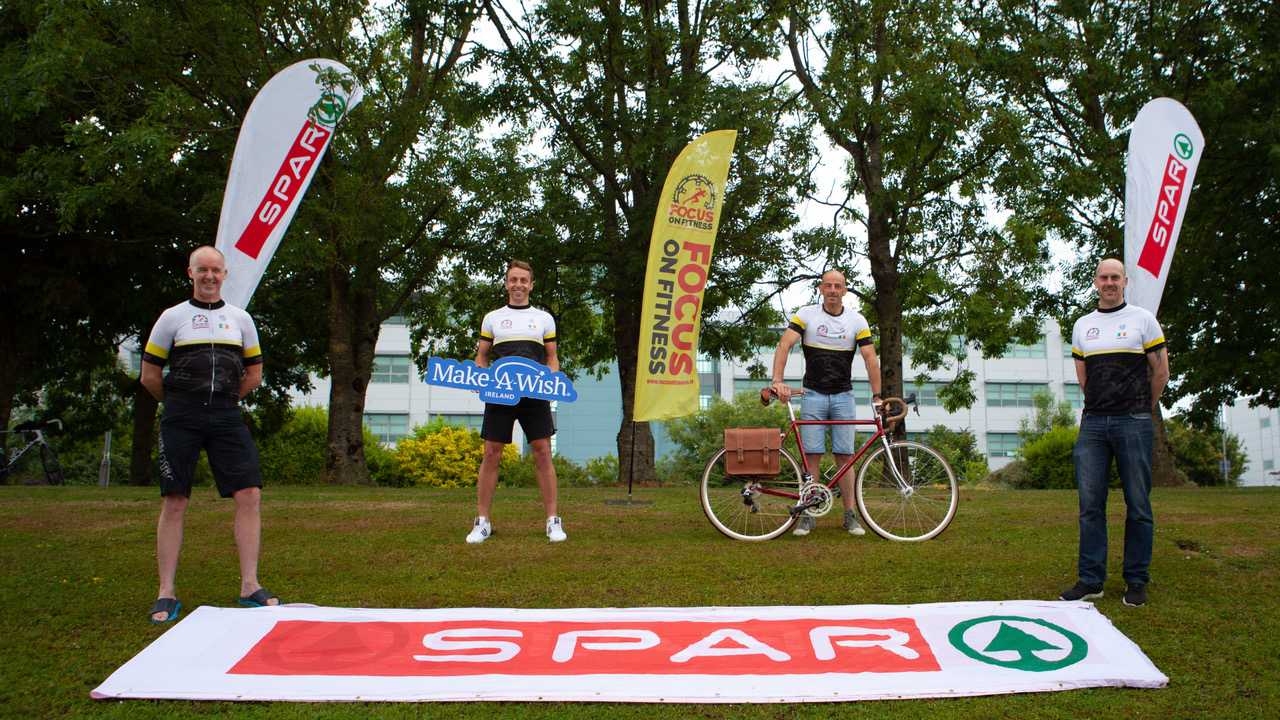 Loop of the Land
brought to you by
Make-A-Wish, Focus on Fitness, and SPAR.
I am delighted and very excited to announce that Focus on Fitness has come together with SPAR to raise some much-needed funds for Make-A-Wish Ireland.
Myself and 2 other Focus on Fitness athletes, Jim and Brian, are going to cycle 2,300km, around the coast of Ireland in just 11 days. This is no easy feat, especially with a total of 17,000 meters ascent.
This challenging route will involve cycling 200km, with an average of 1,800 meters of elevation per day. This cycle will be self-sufficient, with each person carrying all of their gear and equipment on the bike.
The cycle starts from Waterford City on August 4th and heads towards Cork along the Copper Coast. From here we will make our way up the Wild Atlantic way to Donegal, and back down the east coast, finishing back in Waterford City.
We would really appreciate your support of this cycle for Make-A-Wish.
All donations can be made through Make-A-Wish.
Who is coming on the trip?
Martin Kirwan
I have wanted to do this cycle for a long time, but never found the right time to do it. With a lot of sporting events being cancelled, I feel now is the ideal time to undertake the challenge.
With charity's struggling to organise their usual fundraising events, this is a perfect opportunity to organise the cycle, while helping Make-A-Wish raise money for families in need.
Jim O'Brien
With races and training severely disrupted due to the pandemic, it was time to put things into perspective. What's it all about? It didn't take long to realise that we don't have as much control over our daily lives as we had previously thought. With that in mind, a conversation turned into an idea which then turned into a plan.
Ideas are always there and plans are always subject to change. Martin Kirwan had the idea and somehow I talked myself into the plan. Between us, we also decided to try and help some less fortunate family's along the way by raising some funds for the MAKE A WISH charity. As a SPAR retailer myself I was made more aware of this particular charity as it is the designated SPAR charity of the year. 2300km around the coastline of Ireland in 12ish days.
A real challenge is one when you're not sure if you'll succeed but all the more satisfying when you do.
Brian Jacob
Hi, I'm Brian Jacob. Since I started training with Martin (Focus On Fitness) in 2012 I've done a lot of long-distance races and events. This adventure is definitely up there with the craziest but hopefully will be one of the most enjoyable. With most races cancelled this year, I looked at it as an opportunity to try to take on some events that I have been wanting to do for a few years.
I think it is perfect timing and a very unique way of getting to see the country. I'm really looking forward to the challenge and think it is a great way to raise funds for Make a Wish who do such important work in our community.
Our Route
Below is the planned route over the 11 days. This may change depending on what the Irish weather has in store for us. We will keep you updated on our plans as we go along through Facebook and Instagram, so be sure to keep an eye out.
We would love to see some new and old faces along the way, so if anyone would like to join us on different stages of the route, just let me know!
Day 1
Tuesday August 4th
Waterford to Clonakilty
190km with 1,500 ascent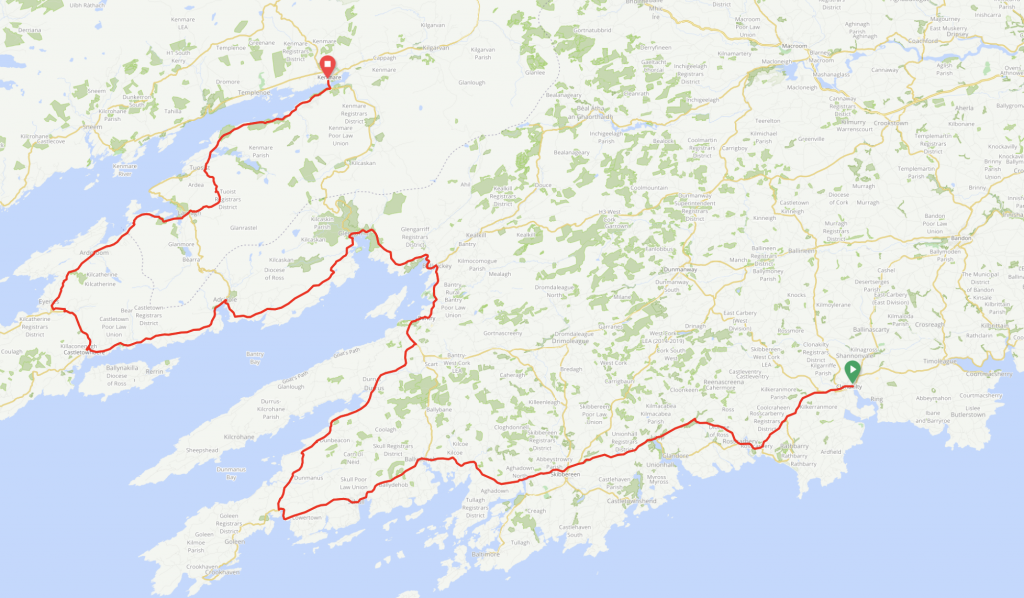 Day 2
Wednesday August 5th
Clonakilty to Kenmare
190km with 1,700m ascent
Day 3
Thursday August 4th
Kenmare to Tralee via Dingle
217km with 1,885m ascent
Day 4
Friday August 7th
Tralee to Kinvarra
207km with 1,440m ascent
Day 5
Saturday August 8th
Kinvarra to Leenaun
190km with 1,220m ascent
Day 6
Sunday August 9th
Leenaun to Ballina
228km with 1,455m ascent
Day 7
Monday August 10th
Ballina to Dungloe
211km with 1,563m ascent
Day 8
Tuesday August 11th
Dungloe to Carndonagh
218km with 1,943m ascent
Day 9
Wednesday August 12th
Carndonagh to Carrickfergus
225km with 1,812m ascent
Day 10
Thursday August 13th
Carrickfergus to Dundalk
182km with 947m ascent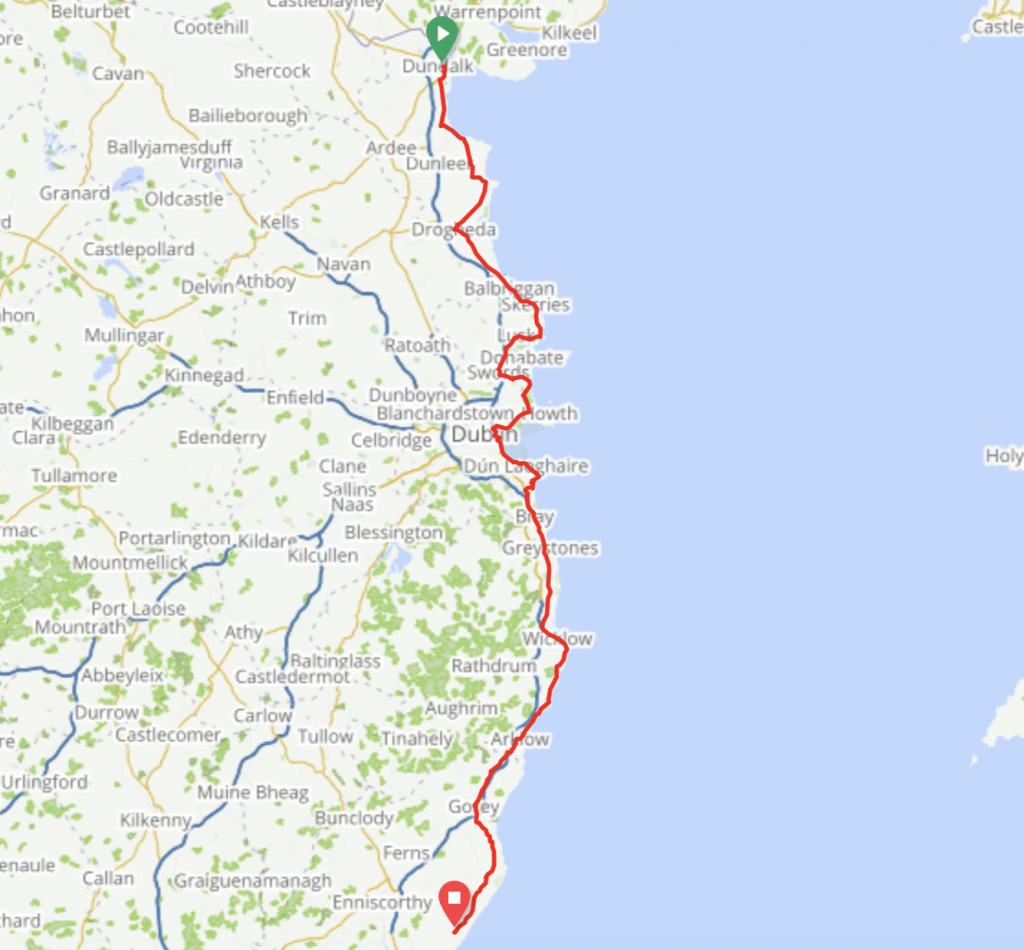 Day 11
Friday August 14th
Dundalk to Blackwater
242km with 1,882m ascent
Day 12
Saturday August 15th
Blackwater to Waterford
121km with 892m ascent
We would really appreciate your support of this cycle for Make-A-Wish. All donations can be made through Make-A-Wish.