Anthony Kirwan's transition from GAA to Triathlon.
I suppose I'll start at the beginning. I played hurling all my life and loved every minute of it, I played senior for my club Mt Sion and inter county for Waterford.  I met Martin when I had the massive task of managing my club Mt Sion, I needed to source a physical trainer and upon talking to a few friend's, Martins name kept popping up. I took the plunge and decided to ring him and when I met him I suppose I was sold on his pure enthusiasm for training and well being of the people that he was about to train.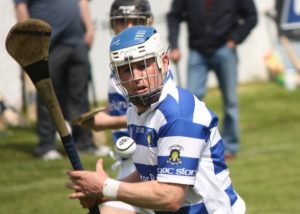 Martin, the selectors John, Babs, Nicky and I set out on a new experience and for the most part I found it immensely enjoyable. The training was hard, but everybody bought into what we were aiming for and pushed themselves.   We managed to get to the semi-final in our first year and the second year we made it to our first county final in 6 years only to be beaten in the final.  That was to be our final year working with the team, but the next journey would see myself and Martin meet up again and take a new direction, one that would make a huge difference on how I looked at my lifestyle, fitness and training.
I was 40 and still played hurling but at a lower level, but had the big urge to take on another challenge. I had always wondered what it would be like to run a marathon, I had managed a couple smaller runs without any real training but to complete a full one in a decent time would require help.
I signed up for the Dublin Marathon 2016, then went to Martin and told him of my plans. Without any hesitation Martins first words were, ok let's set out a plan. I had the massive buzz back inside me like when playing senior hurling, I was eager to learn and improve at every turn. We set out milestones along the path to Dublin among those were a number of races to get me used to longer distances.
Dublin Marathon 2016
So on to the Dublin marathon, I went up the day before with a group of friends to register and take in the buzz around. The night before it was hard to sleep. The morning of the race I checked my gear again and again to ensure everything was right, eventually telling myself to cop on and get going. With the start line fast approaching and warm up complete I moved away from the people that I arrived with so I could concentrate on what I had to do. The race started and off I went, going by Martins advice which was spot on I was to start easy and work into the race. Over the first couple of miles with so many people passing me out I wondered was I going too slow but remembered Martins advice "stick to the plan" and sure enough bit by bit I passed a lot of those mad crazy people who sprinted by me at the start. As the race progressed I started to feel the hurt but kept remembering that all the work was done. I had heard of the term hitting the wall at around mile 22 but never really believed it, I was going to regret that, as miles 21, 22 and 23 approached and my legs were hanging off me that's when your mental strength has to kick in and push you on. As mile 25 approached I could see on my watch that I was around my target time so that drove me on and I crossed the line to completed my first ever marathon in 3 hours and 30 mins and after I was in both massive pain but utter enjoyment at what I had completed.
The Triathlon Adventure Begins
After the marathon when things settled down I still had that urge to do something else. I had seen Martin, Brian and the other lads that he trained race and talk about triathlons and thought I'd love a go of that.  The running would be ok but I was only a recreational cyclist and forget about the swimming. Not knowing what was ahead of me and under the influence one night I signed up for the Dublin Ironman 70.3, this would have been ok except for that fact I couldn't paddle two lengths of a pool without exploding. I signed up with Eoin Lyons for the swimming lessons. The first mail I received from Eoin was how far could I swim and what pace I was able to swim per 100 m, the blood drained from my face and to be honest I lied as I replied back with 400-500 meters slow enough.
On talking to Martin I didn't know if I was able for it but he put me at my ease and said we will work through it. Training was swimming Mondays, track Tuesdays, bike Wednesday, running Thursdays, easy day Friday (well kind of) with Saturday a mixture of all three disciplines and Sunday a recovery cycle or run. With Eoin's training the swimming improved massively. As part of the training I signed up the Tri-Athy Olympic event, 1500m swim, 40 k cycle and 10 k run. This would be my first ever triathlon event and I was as nervous as I probably ever have been, even with all the big matches that I played in hurling, I was going into something that I never experienced. The gun went and the race started with a rolling start, as I made my way to the start line my heart was pounding until it was my turn to jump into the water. I started off slow and but suddenly realised that there was no mercy to be given to beginners as lads/ladies passed me by every means possible.
 I was kicked punched and more or less trampled on and that was just within the first 600 meters (and I thought that was one of the hardest matches I had ever played), as the turn approached I got a bit of clear water and slowly made my way to the finish of the swim. I got out of the water after swallowing half of it and was barely able to stand being so dizzy it took me some time to get my bearings, I made my way to the transition and got changed and off I went on the bike which was hard but ok and then back into transition, with the bike parked up the run began and nice and easy I worked my way through the miles and crossed the finish line feeling happy. On the way home I said to my wife Sonya that I loved it, the whole buzz with the swim, cycle, run and transitions etc was addictive. As the training continued the work load increased, I signed up for another few races and completed them learning all the time as training kept rolling towards the end goal of Dublin 70.3. Meeting Martin regularly on the lead up to the race I felt confident and with the plan in place from the gaffer I was ready.
Ironman Dublin 70.3
Sonya and I went up to Dublin the day before to register and sort my bike out in transition. I was feeling great and the tapering process was done to a tee.  Up early at 6 am the day of the race and down to transition to just check everything is ready. Getting a massive hug and kiss from Sonya, into the wet suit and off to the start line I went.  Waiting for my turn to start I met Jim O'Brien who was also waiting to start, a few jokes were passed as we made our way to the start. I felt calm and totally relaxed which was great, the swim went well even though I did slightly more than the 1.9km I was on time and out of the water in just under 40 mins. I gave Sonya the thumbs up and into transition to remove the wet suit and back out onto the bike. I started off easy and remembered the pre-race plan regarding the food and heart rate so I build up on the fluids and carbs in preparation for what was to come later.
During the bike I kept a close eye on the heart rate targets and made sure not to push too hard past my targets, my average speed was better than I had expected and at one stage I looked at my watch thinking was the watch stopped as I could not have been this quick compared what I thought I was going to do. Heading into Phoenix Park I realised that I was ahead of my bike target and still feeling good. Into transition after completed the 90km bike in 2 hours and 39 mins and through just the 22km run left so. Heading out from transition again I started off at a pace that I could build on, the first 2 people I recognised were Sonya and then Martin, Martins first words were "how you are feeling, keep it steady build into it" and a quick reply I said ya feeling good and off I went. I slowly built up the pace over lap one, lap two was decent and I averaging what I had trained for so I was feeling confident. By the end of final lap I starting to feel the leg pain but mentally I knew I would be ok. Starting the final run up the home straight I was buzzing to finally cross the line with a finishing time of 5 hours 11 mins and absolutely thrilled.
What was Next
After completing Dublin I relaxed a bit but was still wondering what next. I met up with Martin and had a talk about a few options, would it be Dublin marathon again or was I thinking of completing in another 70.3 or full Ironman with view to getting faster, so we both agreed it was the latter. The next target along that path was to complete a half marathon in under 1 hour 30 mins which was around 3-4 mins faster than I had ever done one before. I signed up for the WAC Half Marathon in Nov '17 and Martin set up the training plan. Week on week I could feel and see the results of what we were working to coming to pass. The race was tough but went well and passing the finish line in 1 hour and 29 mins I was delighted and another milestone completed.
What's next for 2018
After completing the WAC half I was just browsing the internet looking up a few videos of Ironman 70.3 races and got hooked on a certain race "Austria St Polten in May" and had to sign up, this got me thinking what would it be like to complete a full Ironman, a number of weeks passed and the idea still wouldn't leave me so finally I made the leap and signed up to the full Ironman race in Barcelona October '18. Martin's received the call from me and I let him know of my plans and with a little laugh from him down the phone he said you'll have a busy year so we better get started. It's going to be a tough year.
For me it's being an immensely enjoyable journey so far, meeting new people creating friendships, going through that transitional experience from the hurling background to triathlons and to be honest I couldn't have done anything to date without Martin's training/guidance and the support that I received from Sonya and the kids at home which has being unbelievable.
If I was to give any advice it would be that nothing is impossible, with the right coaching, support and dedication anything can be achieved.
So onwards and upwards we go..
Focus on Fitness Notes
Functional Movement Classes continue every Monday night, 7pm in WIT ARENA **OPENTOALL**
Track Session every Tuesday, RSC , 5pm **OPENTOALL**

Delighted to announce that Eoin Lyons of Swim Fast Coaching will be Swim Coach for the Camp.
If interested let me know.
I can be contacted through email or social media if you have any questions.
 Martin