The Road to Kona
I am writing this story as I sit on an Aer Lingus flight from Dublin to Los Angeles, literally on the road to Kona, Hawaii.
This trip has been years in the making and to be honest something that always seemed to be just out of my reach over the last few years of competing at Ironman distance. It was a combination of the right race, at the right time, patience and a whole lot of luck.
This is my story from starting into triathlon to sitting on a plane en route to race in the Ironman World Championships in Kona, Hawaii, the mecca of Ironman triathlon.
I started into sport in 2004 after deciding to complete the Dublin Marathon. This was just a challenge and personal achievement to complete the distance and I did so in 4hrs 35 min. Less than 12 months later I broke my leg in a bike accident which put me right back where I started, doing nothing again! During this time I went to UL and studied exercises and fitness and started my coaching.
I was told by doctors after the surgery and rehab that running would be out of the question and especially any long distance and any speed.  In order to gain some level of fitness I started cycling and forgot about running for a while. It was purely by accident that I got into triathlon, I couldn't swim at all so decided I needed a new challenge now that running wasn't an option or at least for the moment anyway. I had it in my head I would do a sprint race and Dunmore East Hook or by Crook was the race that I had my sights set on. The plan was to learn to swim and be able to do the 750m, bike was going to be ok and then walk the 5km run if needed just to complete the race. Little did I know how hard it was going to be to learn to swim and be able to swim the distance, never mind that I had to do it in open water.
Over the next few months the focus was just on swimming and cycling with a very small amount of running going on but delighted to be able to do any bit of running. I joined Waterford Triathlon Club and got some great help from the members there to get me started. At the time triathlon was a new sport and races were few and far between. I took part in the local club duathlon that year and got back doing some running, which gave me the boost that was needed and motivation to see this challenge out.
It wasn't long before I was standing on the beach in Dunmore looking out at what was going to be the biggest challenge of my life to swim 750m and make it out of the water. I breast stroked most of the distance and finished the race delighted, I was hooked.
Over the rest of that season I completed two more Sprint races and an Olympic distance race, I breast stroked them all but didn't care about time or position. I suppose in the back of my mind, of course not saying it out loud, I was a triathlete! Over the course of the next two seasons I competed in Sprint and Olympic distance, my swimming got better, not faster but I was able to complete races swimming front crawl which was a bonus. It wasn't long before there was a new challenge and The Lost Sheep Half Ironman distance in Kenmare was going to be it. At the time this was the only long distance race in Ireland and in 2007 I took part in the race and  was delighted to cross the finish line.
Being involved in Waterford Triathlon club I would hear the talk of Ironman distance racing and I started to read up on it and how the race was started originally in Hawaii by John Collins in 1978. With possibly only 3-4 Ironman races in Europe to choose from and all of them tough courses, was this going to be a step too far to take on such a massive challenge.  Kevin O'Brien was the original Ironman in Waterford I think at the time. To imagine what a pro athlete would look like that was Kevin, and I was going to have a lot of work to do.
In 2008 legends of Waterford Triathlon Club Tom Casey and Noel Dillon were doing Ironman UK and this was an opportunity to watch the lads and get as much information on what they were doing and how they progressed, so in 2009 I was signed up for Ironman UK the first year it was to be in Bolton.
2009 Ironman Bolton UK
With a lot of advice from the lads I was starting to train for my first Ironman race. This was going to be a lot of time looking at the tiles in the pool to get myself up to the 3.8km distance. With nobody else locally doing Ironman that year it was going to be a lot of sessions on my own on the bike but I was determined to cross that finish line no matter what happened.
Time passed quickly and before long I was on the start line of a full Ironman race. This was not about time; it was to cross the finish line and try to make the cut off time of 17 hours. I enjoyed every minute of the day and crossed the line in 11:55:44 min and I was an Ironman. The plan was only to ever do one race but the following year I was signed up to Ironman Switzerland.
2010 Ironman Switzerland Zurich
Ironman was starting to get more popular and a big crowd from Waterford Triathlon Club had entered the race. A lot more training groups had formed which  made it a little easier to train for this race. There was a convoy of campers made the trip to Zurich.
This was the first taste of racing in high temperatures, it was going to be interesting to see how this would work out.he days leading up to the race the only talk was about a non-wetsuit swim, nobody had told me this could happen in triathlon, swimming was hard enough without taking the wetsuit away.
Luckily 2 days of rain wasn't long about sorting that out and disaster averted.
A great race and brilliant atmosphere I crossed the line in 10:20:22 min.
2011 Ironman Austria
Possibly the best Ironman race I competed at, Austria is an absolutely amazing race. The location and atmosphere has to be experienced to fully appreciate the race. Things were coming together a lot better now with better swim times, TT bike and back running well I crossed the line in 9:46 min.
A sub 10 hr Ironman was only the stuff of dreams.
It was one of those days as I have learned over the years of racing when it all comes together on the day and seems as if nothing could go wrong, this was one of those days.
2012 Ironman Austria   
This race was so good I had to come back again. You have the option the morning after the race to get priority entry for the following year as the race normally sells out in a matter of minutes when it is opened on line.
A big crowd from Waterford Tri Club made the trip for this race which again created a great atmosphere. This time we were not so lucky with the weather with temps in the high 30's in the days leading to the race it was going to be a non-wetsuit swim on this occasion.
This was going to be a tough day out. I had got my swim time down to about 80 min still not fast by any stretch of the imagination; it had taken me 1hr 40 min in this race. With temperatures hitting 40 deg it was carnage out on the course. Another race done and crossed the line in 10:20:19.
2013 Ironman Lanzarote
This is known as one of the toughest courses on the circuit with up on 2,000 mtrs of climbing, high temperatures, and very windy it was a new challenge. Time wasn't a factor on this race it was to go back to basics and complete the race.At this stage I was coaching some people myself and a big crew took part. A lot of the lads were competing Ironman for the first time and what a race to start off with.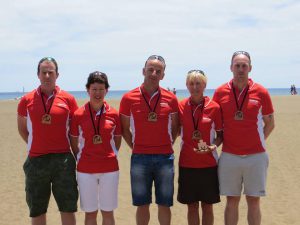 A very challenging race, but worth every minute of it! A mechanical problem with a rear wheel cost me a lot of time but I managed to get a wheel from a service crew on the course which got me back to transition and out on the run.  It was about finishing at all costs with time featuring second in this race.
There is something special about racing in Lanzarote and I have gone back and competed in several races of different distances since the Ironman race. Another medal and finisher T shirt crossing the line in 10:59:58.
2014 Ironman Nice
This was another race that wasn't about time, these were tough courses and the challenge of completing these races was more appealing than how fast the time was. A great location for a race, a very tough bike course with a lot of climbing and very technical descending and the weather showed its hand again.
The temperatures typically high in the south of France as you would expect but nothing prepared us for the rain that came at us up in the mountains.  This was nothing I ever experienced before and when I got the rain it was on the descent. The amount of crashes on the bike was hard to believe, was I glad to get to the bottom of the mountain still up-right and thought to myself I got away with that one.
Not so lucky on the day was my partner Siobhan who came off the bike and ended up in hospital for the next few days after breaking her arm and suffering bad head injuries. I partly guessed on the run that something was wrong and I was told after crossing the finish line so it was a quick wash in the sea, change of clothes and off to find the hospital on foot.
Another finish in 10:11:51 but that was the last thing on my mind after that race.
2015 Ironman Copenhagen
As I said earlier you have good days and bad days, the last 2 races were I suppose the bad days but getting across the finish line is always priority. This however was going to be a good day. It was another one of these days that seem like you can't put a foot wrong even if you tried. Copenhagen is another super race with a great atmosphere, especially on the run course.  Focus on Fitness was now growing and with a big crew racing on the day you are not always thinking about your own race with so many out on the course and wanting everyone across the line as much as finishing myself.
This was going to be a PB race and the fastest I have done still so far, crossing the line in 9hrs 36:13.
A Kona spot was still not really on my mind, I was getting faster but so was everyone else, times were getting so fast it was just out of reach. Although it was always a dream to be able to race on the big Island I was never got caught up on it and was looking at going down the road of finishing 12 events and then going into the lottery to get a place that way. It is a good opportunity from Ironman to give people a chance who otherwise may never get the chance to race at Kona.
I took a year out in 2016 and did not compete in triathlon at all that year. I was supporting and coaching Damien Vereker to  try to get a place in the squad for the Para Olympics in Rio which came to pass so worth all the effort.
2017 Ironman Tennessee
This was another one of those years and races that is hard to explain. I had no real plan to do Ironman and competed in The Race a 24hr endurance race in Donegal in March and thought that would be enough to be going on with without putting an Ironman race in on top of that as well.
Siobhan had qualified for the Ironman 70.3 world championships in Chattanooga Tennessee along with Eoin Lyons, John Hayden and Sandra Rellis, all of whom I coached.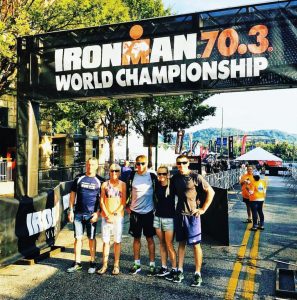 I was going to be traveling to the race which for me was my holiday as I was not racing. I had always wanted to compete in an Ironman in the States so I was having a look one night to see was there a race that might work in with the trip. I suppose as luck would have it the full Ironman was in Chattanooga 2 weeks after the world 70.3 Championships and entries were still available, it was hard to believe. So, we sat down to see would it be possible to work this into the trip and decided it would be a once off trip to be away for 4 weeks and stay on for the race. Not knowing anything of the course and I didn't look at the course it was just an opportunity to race in the US. I had no plan to race the 70.3 race as I hadn't qualified for it.
Siobhan had decided to race Ironman 70.3 Edinburgh as a race leading into the world Championships 8 weeks later.
I decided only 3 weeks before Edinburgh I would do the race on account of not racing the season before to get some race experience. It was a tough race but good to be back racing again, I qualified for the World Championships in Chattanooga and decided to take the place and race there and use the race as an opportunity to race at the World Championships.

Over the next few weeks I ended up with an injury and wasn't running at all. The reason of going into the detail of this race is to show how it would all unfold over the next few weeks run up to the Ironman race. The injury wasn't really a problem and something I thought would only be for a few weeks. The injury didn't get any better and I was going to the race with no long run sessions done. At this stage I had it in my head that I would get through the 70.3 race and get the run done whatever way I could and then decide on what I would do for the full Ironman race.
For me this was going to be more of a holiday and the races were only second place. It was my first time going to America and as I said earlier it was just a chance to race Ironman in the states. The 70.3 race was going to be a good training session for the full race so wasn't going to be a race to push all-out effort and I stuck to the plan with whatever was going to happen.
After arriving and taking a few days to get over the travel I got my last long bike ride in of 160km on the bike course for the full Ironman race. This was a big advantage for the day to have been on the course. A lot was learned from that bike ride and some adjustments made for race day. This was on Tuesday and the 70.3 race was on Sun but I was happy enough with this and now looking forward to the 70.3 race.
The atmosphere around the 70.3 race was electric. The race itself went well, It was a tough course with a lot of elevation on both the bike and run course but it was World Championships after all. As I said it was a good training brick session and I got to run all of the course albeit not as fast as I could have but very happy to be running. After the race I decided I would do the full Ironman 2 weeks later regardless of not having the run training done. The next 2 weeks were spent traveling around, a few days in Memphis from there to Nashville and then Gatlinburg before heading back to Chattanooga for the race. A small bit of training was done and a lot of holidaying.
It was 2 days to go to the race when we got back to Chattanooga so little time to be thinking about the race just getting the normal pre-race jobs done. It was all very relaxed leading into this race and even the day before was very relaxing and no pressure on myself for the race. It was not long before I found myself standing on the edge of the Tennessee river starting another Ironman race.
This was a wetsuit optional race, if you decided to wear a wet suit you were not eligible for a age group prize or Kona qualification slot. I went without the wetsuit taking my chances; it was a down river swim so it was going to be a quick swim for everyone. I got out of the water in 58 min, I was delighted to break the 60 min even though it was down river but everyone else was going to be fast as well.  Out on the bike and I got into a pace and effort and worked my way up through the field on the 2 lap course.
As I said earlier trying to choose a race that would suit you best, unknown to myself this was going to be one of these races. As a result of the downriver swim the bike course was longer than the normal 112 mile/180 km this was going to play into my favour. On the second loop and particularly towards the end I was making up a lot of places and when I got back to transition there were not a lot of bikes in transition, I thought I mustn't be going too bad here.
The run course was incredibly tough with a lot of elevation over the 2 lap course. With temperatures in the mid 30's and high humidity it didn't take long to figure out this was going to be a tough marathon.  I wasn't long out of transition when I met Siobhan and she told me I was in 12th place in my AG which wasn't anything I was really thinking about in the race.  I got back to the task at hand and didn't think too much more about it again. The next time I passed Siobhan after the half way mark she told me I was up to 10th place. At this stage I did think about holding on to the top 10 position in AG which would be the best result I had at an Ironman race to date. I kept going and it was very tough at this stage and getting tougher. The first 8-10 km of each loop was pretty flat and the 2nd 10 km of the loop was very tough with a lot of hills. All I was thinking was to stay focused and just try to hold where I was.
I met Siobhan again with about 8 km to go and she told me I was into 5th place, I couldn't believe it. This was the first time that it entered my head about a Kona spot, I wonder how many places there is in the AG, this was the real tough section all I could do was to try to keep running. It wasn't that I was running very fast but I was still running or at least in my head I was when all around me were walking. At this stage of the race it was hard to tell who was on the first or second loop of the run, I kept telling myself keep running, don't leave this chance slip through your fingers. With 4 km to go there is a steep uphill for about 1 km followed by a fast-downhill section and then across the Tennessee river for the last time and flat into the finish. Body marking is normal at Ironman where they tattoo your number on your arm but in this race, they also put your age on you calf, this was great, letting you know who was in front of you but also let others know what AG you were in.
I was on the last up-hill section and was really starting to feel the race it was a steep section and I literally cried out "fuck this thing and I started to walk" this was the first time I walked on the marathon. I was walking about 20 sec when in front of me was another guy walking with the same AG tattooed on his leg.  With no idea what lap he was on or what position I was in I got something from within to start running again. It was the longest 3 km to the finish line but I finished in 9.52. I met Siobhan and she told me I was in 3rd place but with the rolling start in Ironman there was still people out on the course that could potentially be quicker depending on where they started into the swim.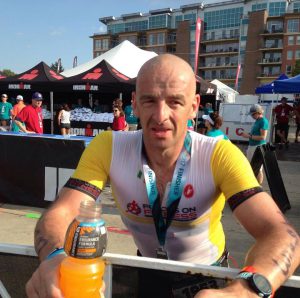 One more guy finished ahead of me so I got 4th place in AG, to say I was delighted was an understatement. The wait was on now to see how many slots there was in the AG for Kona. We went to the award ceremony and the Kona allocation the next morning and with 4 places up for grabs I picked up a place to race at Ironman World Championships in Kaulia, Kona in 2018.
With over 12 months to the race it was a great to qualify so early, giving time to get prepared for the race and the cost involved with going to Hawaii.
Siobhan was going to be traveling to Hawaii as well so it was a no brainer for her to try to qualify for the race aswell. This was going to be a big ask as there is only ever one spot in her AG. The following July she entered Ironman UK and went on to win her AG by nearly 1 hr to get a spot to race in Kona aswell.

It was incredible that both of us had qualified to race the same year on the big island.
Ironman World Championships 2018
This was going to be a trip of a lifetime; an absolute privilege and dream come true to be able to race on the course where the best in the world of this sport have raced over the last 40 years. It was not about time or position for me but more about finishing the race and doing the best I could while still enjoying the experience if this was going to be possible.
We travelled over 2 weeks before the race to allow time to acclimatise to the heat and humidity. The minute you stepped off the plane it hit you how hot it was going to be, the heat was very intense. The initial few days was getting over the travel and settling in to this amazing place.  Hawaii is really like no other place on earth, the crystal-clear waters, golden beaches and the warmth of the local people complemented the island.
It was time to get in some training in the conditions and getting into the water was the starting point. The crystal-clear water was amazing, giving you the opportunity to view the sea life below as you were swimming, many varieties of fish, turtles and dolphins to view in the morning swim sessions. Some strong currents and swells in the water plus no wetsuit would make for a tough swim.
Over the next week we got in some good training on all sections of the bike course on the Queen K highway, the tough section of road up to Hawi which is at the turn around point on race day. We got in some running in the energy lab along with some of the more enjoyable sections on Ali'i drive.
The Saturday before the race the Ho'la swim takes place; this is an opportunity to do the full swim course as a practice swim. It was a great atmosphere on the day and a lot learned from it to make changes for swim position on race day.  We followed this with breakfast in Splashers café and then a 90 km bike and 10 km run in the energy lab finished off the last big training session before race day. This was the first day that you really got an idea of how tough this could be.
It was time to start to wind down training and get recovery in the week leading up to the race. The show was rolling into town at this stage and the atmosphere was building every day. The pro athletes were visible out on the roads training; this was starting to get real!
The parade of nations took place on Tuesday evening and a great chance to meet all of the other Irish who were competing in the race and supporters who had made the journey to the Island. Thursday morning was the underpants run which was a great laugh and added to the race week atmosphere.
Registration was done and all that was left was the pasta party, and race briefing on Thursday evening. Race week was in full swing now and soaking up the atmosphere was so important. Friday was about sorting the bike for transition and getting off the feet and relaxing. You were made to feel special all week and when you arrived at transition depending on what bike you had etc. you were treated to some goodies on the way in, this was followed by your own personal assistant bringing you through transition and showing you where to go. It was time for rest some good food and an early night.
Race day! An early start arriving to transition at 5.45 for body marking, handing in your special needs bag, pumping wheels and getting food sorted on the bike.  The organisation was just incredible everything worked so well and so fast it was hard to believe. By 6.15 everything was done and ready for the time to go to the race start. The pro male and female starts were getting ready to go, time was drawing near. It wasn't long until I was standing on the beach waiting to swim the 200 mtrs out to the start. I had decided I would swim out @ 6.57 for the 7.05 start so not to be treading water for too long waiting for the start. Once I swam out to the start and positioned myself in what I thought was a good place to be, it only really hit me that I was in KONA.
When looking at the race on-line in previous years and the feeling you get sitting in front of a computer screen when the race is about to start thinking what it must be like there, well when you are in the water waiting for the race to start multiply it by 1000. I was in race position and I turned around in the water looking back at the pier, it was just incredible. The music, the spectators, the helicopters overhead and you could feel the energy in the water from the other athletes waiting to start.
The countdown started and the canon went, this was it down to business. I swam controlled and relaxed and I got off to a good start avoiding any trouble with the mass start and got a good position. I was happy to get to the turn point around the boat and facing for home, out of the water in 1:20, not a fast swim by any standards but I was happy enough with that.
Through transition and out on the bike course. I was conservative on the early stages of the bike saving some effort for what was a tougher section up to Hawi and the section of road from Waikoloa back to the airport on the return leg. The initial 10km on the bike is an out and back section and then on to the Queen K. The road surface was incredible so I quickly got settled into a pace and effort making up places and clicking off the kilometres.
Reaching the turnaround at Hawi conditions were turning out to be a lot better than expected. A re-stock of food at the special needs drop and back the road to Kona. I was pushing a little more effort on the return section and surprised at how good things were all the way back to transition. Bike time 5.06, it is always a relief to be back off the bike with no mechanical issues.
On to the run, the day was getting very hot at this stage, slow start into the run and building into the pace along the Kuakini Hwy and out onto Alii Drive for the out and back section. The run was just not happening in the early stages.  I could feel the water sloshing around in my stomach from the pure volume of fluids I had taken  on the bike. This was causing some problems to run at pace and I quickly resorted to plan B which was to run a pace that was going to be sustainable for the duration of the 42 km run. Running back into town up the hill on Palani Rd and onto the Queen K again things were starting to settle. I kept to the pace and did not take any chances as I still had the energy lab to come.
This is a tough section, very hot conditions and when you turn at the bottom and face back up the hill out of the energy lab you are feeling the effects of the heat and humidity. Back onto the Queen and the final 10 km to the finish. I met Siobhan on the road as she was heading out towards the energy lab a few words of encouragement to each other and back to work. The final climb up last section on the Queen K taking you to Palani Road seem to go on for ever. Such relief getting to the downhill on Palani and on to Kuakini for the final KM to the finish.
The voice of Mike Reilly bringing home the finishers over the line was sounding out, it was time to relax and enjoy the final 300 mtrs on that magic red carpet. The feeling was just amazing crossing the finish line on this iconic race in such an amazing place. I was an apprentice and served my time over the last 8 years and finally to hear Mike say "you are an Ironman" in Kona Hawaii. I crossed the finish line in 10:20:43, I am qualified as an Ironman!
This was one incredible trip and an experience I will never forget.  Hopefully someday I will be back, that is the new challenge.
#ifyouwantitworkforit
#dowhatyoulovelovewhatyoudo
#anythingispossible