Ironman Copenhagen 2018
Throughout the lead up to this race I must have read every Ironman Copenhagen race report I could find online. I have read the Belpark reports from 2017 at least 5 times each, looking for any bits of information that could provide me with a better insight in to what to expect during the build-up and during the race. They proved to be quite a valuable source of information and for that reason; this is quite a lengthy and detailed report.
Get comfy.
The Decision – August 2017
I had my mind made up some time ago that I was going to attempt a full distance race in 2018. A few other club mates had expressed an interest in Copenhagen. The 2017 race had just taken place and there had been some great racing from other Belparkers who took part. It seemed like the right call and with the pre-release open, I waved goodbye to my bank account for the next year and signed up along with 4 other club mates – David, Keith, Niall and Ella (unfortunately we lost Ella to Australia along the way which was a real bummer). I mulled over the course in detail and read every race report that I could find. Despite all the advice I read online about not setting a time goal for your first Ironman, I couldn't help but think to myself…….11 hours would be very nice. Sub one hour swim, sub six hour bike, and a sub four hour run with transitions making up the spare change. At the time, the challenge seemed overwhelming and that didn't really change until the last few kilometers of the race. Most people that asked about a target time got the standard answer, "Nah, i just want to finish it". That answer would always be bullshit, im never just happy to finish something. For the next year the lock screen on my phone displayed an image showing the time 10:59. I was motivated and I was committed to giving this a serious crack!
The Build Up
A decision I had made early on (and probably my best decision) was to get a coach. I started to shop around and made a few calls. Following a call with Martin I was pretty certain I had found who I was looking for. There was no sales pitch, it was a simple explanation of what the year would look like and how Martin liked to work. In late January after a nice break over Xmas and a warm holiday in Australia, I signed up with Martin and turned my focus to August.
As can often be the way when I get overly motivated at the beginning of a new challenge, I went too hard, too soon. As a result I ended up with an injury in my calf. This was going to be a source of major frustration over the coming months and ended up not being fully resolved until May. I continually pushed to come back too hard or too soon as i kept worrying about having enough time to build distance. I should have just given it time to heal properly. Lessons learned (although I will likely make the same mistake again).
Over the next few months I progressed my training on the bike, in the pool and in the gym, Martin was keen for me to do 2 x S&C sessions per week where possible. I feel this was a very positive introduction to my training as I had never really bothered with gym work before. Another good decision I made was to buy a power meter (Garmin Vector 3s – mostly a good power meter bar a few minor issues that I could sort myself). Like any new piece of equipment, it took time and guidance for me to learn how to properly use it. Once I got the hang of it, it became invaluable and the quality of my bike sessions quickly increased.
It was also around this time that Martin suggested id get more benefit out of my long spins if i did them by myself. I was happy to make this change as I wanted to maximise the quality of my training sessions. I was better off focusing on my numbers and being in my own headspace. I was lucky to have company on a few long spins but I made sure that most of my longest sessions were done solo. I needed to prepare for the mental challenge as much as I did the physical. That meant replicating race day conditions as much as possible
The next big milestone in the lead up was the Athy double olympic. I was excited but apprehensive about this race as I was only back running 4 weeks and had only built up to a slow 15km with no pain. Martin did me out a clear race plan with two primary goals – test my race nutrition plan and get my power right on the bike so that I could complete a solid run. Due to my injury issues I had not raced yet this season. Training was going well but I still felt rusty and I wasn't confident that I would hit my target time of 5 hours. On the morning I setup my bike, avoided the usual pre chatter in transition and tried to focus on my race plan. Once the hooter went all the worries went out the window and the adrenaline kicked in.
It turned out to be a very solid race. During the swim I got my positioning right and I was first out of the water without feeling like I put down too much effort. The two lap bike was decent by my standards despite some minor issues.  I dropped some of my race nutrition and due to some very rough sections of road, my Garmin mount came loose and slipped down my bar. I ended up having to hold the mount in place for the best part of an hour but I hit my numbers and felt strong coming off the bike. The run was 4 x 5km laps which consisted of paths, roads and trail. My run fitness was not great and I struggled over the last few kilometers but it was a good solid run considering the issues I had been having. Job done in 4hrs:46mins (Swim: 0:43 Bike: 2:27 Run: 1:31). Target achieved, lessons learned and confidence successfully boosted!!
It was really from here on out that the volume of training started to creep up. My week at this point was fairly set. Monday was recovery and gym, speed work was done through the middle of the week, friday was a long aerobic swim with long bikes, runs and bricks becoming the main focus of each weekend. The weekends were always the key sessions so the intensity of week day sessions always worked around these. It was very important to plan these out days in advance so that I could get the best out of them. Being underprepared always resulted in a crappy session. After my issues in Athy I focused on simplifying my nutrition plan and getting it right. I made my final adjustments to what I would eat and drink and began dialling in on the specifics of timing, storing it, replenishing it, etc. From June onwards I only introduced one new product to my nutrition plan and that was salt tablets. Copenhagen had been experiencing a heat wave all summer so I needed to be ready In the event that it was warmer than normal.
My final prep race was the National Champs at Harbourman which was a month out from Copenhagen. It was a very hot day and I had to adjust my nutrition accordingly. I had a pretty strong race despite a chain jam on the bike which, according to my power data, cost me a full two minutes. Normally an issue like this sends me in to a spiral of negativity but I knew I needed to improve my reaction to problems rather than just blowing up if I wanted to be successful in my ironman. I fixed the chain, recovered well and pushed hard to finish the race strong. Another positive lesson to take with me to Copenhagen
Race week
My longest sessions were all done two weeks out from the race. As the taper started, Martin kept reiterating that the work was done. I was not to push pace on any of my sessions. As I went for an easy 10 mile run on the Sunday a week out from race day, I felt a lot of tightness in my right calf. I pulled up at around 8 miles and called it a day. I assumed some foam rolling and rest would fix it so I skipped my run on Tuesday and took it easy instead. I made sure to give my calf plenty of light massage and really looked after it all week. Bar that everything else went to plan. I had my last call with Martin, chatted plenty with the three Copenhagen lads on WhatsApp and tried my best to have a stress free week.
Friday
We were all flying out on the Friday. I was a bit too relaxed about getting to the airport (which is not like me at all) and ended up being quite late for the flight. Why had I been so laid back about this? After checking my baggage I started to run to security and within 200m my calf quickly reminded me that it did not want to run! I couldn't believe that I had gotten through all those long runs and my calf was now deciding to act up again. I decided to try forget about it (which didn't work) and deal with the outcome when I hit T2 on Sunday afternoon. I got to the plane (which was thankfully delayed) and spent the flight going over my plan for the weekend
When we got to Copenhagen we decided to go straight to registration which was in an underground car park beneath the run course. It was pretty hectic with people buying anything with an ironman logo on it. I registered quickly, bought a mug and found myself some space up at the pier away from all the noise. Eventually the lads resurfaced dressed head to toe in M-dot gear and we made our way to our hotels. We found somewhere nearby for a carb heavy dinner and spent the evening planning out the following day. I quickly learned that Ironman is as much about logistics as it is about endurance
Saturday
Saturday went by in a blur. I passed on doing a course recce by car with the three lads as I felt my time was better spent focusing on my own race prep. I opted to have a relaxing breakfast with my Dad and took some much needed chill time in the hotel. It turned out to be a very hectic day from here on out. When the lads returned we got to work on our plan that we had agreed on the evening before. We had to collect our bikes from ship my tri bike, test them out, pack our race bags, cycle to T1 (split transition), check our bikes in, get a short swim done and get back into the city for our early dinner booking at 6pm. It was draining and in hindsight i probably should have flown in on the thursday. By the time we finished dinner and I checked in with my gang of supporters who had flown in that morning, I was very tired. Back to the hotel, one final check on some gear for the morning and im straight in to bed……………where I lay wide awake for what seemed like hours.
Ceire stayed in her mum's hotel that night which turned out to be a good decision. I'm difficult to be around if I'm doing a ParkRun the next morning.
This was the A race! I would have drove her demented.
Race day
4am, the alarm clock blasts! I jump up, grab breakfast, get my gear on and meet the lads outside in a taxi. We arrive at T1 around 5.15am. Nutrition was set up and the bike was checked over one last time. I got in for a quick swim, "shite my goggles are leaking". Thankfully my brother Andy had the spare pair. I grabbed a few quick pictures with the gang and headed into the pen. I wanted to start as far up the field as possible. No point waiting around. Everyone gets a different colour hat depending on their estimated swim time with those times then broken down further within the pen. I spotted the sub 60 minute queue and pushed my way up the front. I spent the next 10 mins going through my race plan in my head and before I knew it, I was at the front of the rolling start with ACDC blaring out of the speakers. The atmosphere was buzzing and I soaked up every little bit!
Beep…. Beep…. Beep….. Go! Game on!
Swim
This was always going to be the strongest part of my race. I'd seen some solid Improvements in my swimming throughout the season, particularly over longer distances. I was confident but I was also keen to take a cautious approach. I wanted to complete the swim and be through transition in under 60 minutes without over exerting myself. Martin had been keen to remind me that strong swimmers can often push themselves too hard in the swim which they pay for later on in the bike and the run. He wanted me to take the first 5 mins easy with long strokes and get in to my rhythm! I did exactly this and within minutes I was moving up through the gears and passing out other red caps. The swim is in a sheltered bay called Amager Strandpark. As a result, the water is calm and perfect for swimming. The course is a single loop and involves swimming under 3 bridges out and back. Each side of each bridge had the distance marked on it so it was easy to gauge where you were. A short distance after the 1800m bridge marker I had a quick glance at the watch, 26 mins. That was a little faster than I had planned but my breathing was controlled and the body felt good. I eased off the gas just in case the adrenaline was pushing me harder than intended. After a minute concentrating on slowing my stroke and breathing, I focused on making it to the next bridge at a steady controlled pace. As I approached the last buoy I began to go over my transition in my head to ensure it went smooth. Sighting was tough on the way back in and i struggled to see the swim exit but before I knew it I was out of the water, quick glance at the watch, 54 minutes. Perfect!! I grabbed my bag, threw on a bike jersey, popped on the helmet and made sure my spare nutrition was where it was supposed to be. I dropped off my bag, grabbed my bike and got over the mount line with a few minutes to spare on my 60 minute target. Shite, I forgot to put on my socks!!!
Bike
I had gained a reputation over the weekend for cycling on the wrong side of the road. I didn't learn from my previous mistakes and started out on the left side of the lane. After a couple of close calls with other participants a friendly Dane barked "get on the right, we pass on the left". I knew the lads were going to laugh at me when I told them I had done it again.
The first section of the bike is great fun. You are flying through the city centre on closed technical roads and bike paths. It's easy to get carried away with yourself and I had to remind myself to focus on my plan, get my power in check and start putting some food in to me. After about 15km, you pop out by the coast on the north east side of the city. This section was mostly flat and fast and reminds me of a large version of the Clontarf coast road. We had a blustery crosswind from the west which wasn't much help but the roads were good so I could still hold a decent average speed with plenty of time down on the bars. After another 20km the course turns inland and the roads get more technical with plenty of rolling hills. The surface quality also diminishes here and that coupled with the headwind from the west caused the pace to drop off. I reminded myself not to chase an average speed. I focussed on my power output trying to keep it as consistent as possible without any major jumps on the short hills. About 15km later the road improved for a few kilometres before we joined up with Denmark's equivalent of a dual carriageway. This had a good surface with a few short climbs and most importantly the wind was now on my tail. The average speed stopped dropping and started to move back up.
Shortly before the start of loop 2 my motivation levels were probably at their lowest. As I approached a small fly-over bridge I could see a gang of people in white t-shirts in the distance. As I got closer I realised my support crew had come out to surprise me with some support in their excellent "Team Ian" t-shirts!! They had also made friends with a similarly dressed bunch from England who were out supporting their daughter. I got a huge cheer and this really put a smile back on my face. The motivation levels shot back up. I knew I was nearly half way through the bike. Head down, Focus, Drive On!
The second lap went by in similar fashion with the positivity levels going up and down. After hitting another low point I started talking to myself out loud. I found that it took me out of my head for a few short moments when the internal voice was being a bit negative. This really helped me through the earlier stages of the second lap when I knew I still had a long way to go.
My next challenge reared its head at around the 130km mark. I was really struggling to take on solids and I was a little bit concerned as I knew I wasn't taking in enough calories. I decided I would stop trying to force down the solids and I would increase my intake of tailwind as this was still going down fine. I had a few bottles of concentrated tailwind mix that I was watering down with water bottles from the aid stations. I mixed my bottles stronger than normal and made sure to sip away regularly, taking in two 750ml bottles over the last 50km to make up for the carbs I was missing from the solids.
As the kilometers ticked down and I approached the final 10km back through the city I was getting really anxious about whether I would be able to run or not. I'd been trying to ignore the issues with my calf all weekend but there was no dodging it now. I had heavily strapped my calf that morning and i hoped that the strapping along with my calf guards would hold me together. I reached the mount line and took a glance at the watch. 5 hrs : 34 mins. Better than expected and ahead of target. This gave me some comfort knowing that i was over 20 minutes ahead of target. Even if the run didn't go too well, I might still hit my 11 hour target
Run
T2 is in an underground carpark. I jumped off the bike and passed it to the bike catcher. I decided to take my time and make sure I got everything that I needed. I thankfully had a spare pair of socks in my bag so I popped them on first. I planned to take a gel every twenty minutes and I didn't want to stop at the special needs bag if it could be avoided. As a result I had a lot of gels to carry. I had noticed in the race brief that we didn't have to wear our race number on the bike. This worked in my favour as it meant I could pre-load my race belt with my nutrition and avoid trying to shove gels in to the little loops on my belt while I ran. I popped it on, stuffed some extra gels in to my trisuit and nipped to the loo.
Martin had warned me to expect some craziness when I came up out of the carpark. It didn't disappoint. The streets were packed with crowds of supporters. There was music blaring in every part of the course and the narrow sections of the run felt very intense. My plan to start high up the field that morning had paid dividends. The course was still pretty quiet by the time I arrived and most were running faster than me meaning I didn't have to move around other runners initially.
The plan was to keep the first few KMs at a very controlled pace. I didn't have much choice in this.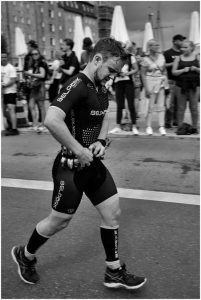 My calf was sore and tight and I was starting to panic a little. I had hoped I would get at least get 10km done before I felt any issues. Within 2km I seen my partner Ceire and she immediately moved towards me as she seen me running a little strange. She knew by my face that something was wrong and I just mouthed "my calf is f***ed". Her face dropped as I passed her. I probably shouldn't have been so dramatic as she wouldn't see me for another 5km and she was probably panicking more than I was. After another 2km went by the pain was not going away but I was still running and it was loosening out a little. I found if I landed more on my heel it didn't cause as much pain and I could hold somewhere between 5.10-5.20 pace without irritating it too much. The course was now moving out along the harbour and the crowds were lighter here. This provided some respite from the intensity of the rest of the course and it allowed me time to address my negative mindset. I was running ok and I had extra strapping in my special needs bag if things got worse. The plan now was to run until it stopped me. If that happened I would deal with it then.
As i started my second lap the course was starting to get busy. My pace was now floating around the 5.00-5.15 mark and the calf was not getting any worse. I was taking on a gel every 20 mins and they were going down well. Ceire and the rest of my supporter gang were giving me huge amounts of support and kept popping up in different parts of the course. This kept the spirits high and helped make the first 90 mins move by quickly. I caught sight of Keith at about 18km followed by David at 21km. Both were moving well and if they were hurting, they weren't showing it. Class!!
I was really starting to enjoy this and the confidence was building.
By the time I was entering my 3rd lap I was setting mini targets for myself. I was trying to not allow myself to look more than 2-3kms ahead at anytime. I was very aware that this was going to be the toughest part of the race mentally. To combat this I continually voiced my next mini target out loud to myself. Again, this briefly turned off the internal dialogue in my head and helped me focus.
My HR was still in check, my pace was still solid and my nutrition was still going down well. I knew I was racing well and that I was comfortably ahead of where I needed to be to hit my target. I was also acutely aware that the wheels could quickly come off as I had no idea how my body would stack up over the last 90mins. I refused to let myself look at my overall time or make any estimate of my finishing time until I hit the 32km mark. I convinced myself it would be something to look forward to. It would be something to distract my mind with for five minutes
When I did finally get to 32km i was entering my last lap and only had one more armband to collect. When i finally looked at my watch it took some time for me to do the maths. My brain had shut up shop and gone home for the evening. I was at 9hrs 22mins………is that right? I double checked my distance on the run. It was right. I checked on my average pace. It had been slowly creeping up but it was still steady and was sitting at around 5.10 per km. Even If my pace deteriorated rapidly and I held a 6-6.30min pace for the rest of the race I would still finish at around 10hrs 30mins. I took a minute to process that with a smile before reverting back to my mini targets. My stomach would no longer take gels but I had expected to move to coke for the last 10km so it was no big deal. I had held off taking coke at the aid stations for the whole run as It was a treat to look forward to in the later stages. I started to pick up 2 cups at each aid station to ensure I was getting enough carbs. They tasted amazing! They were worth the wait. This provided enough distraction to get me through to my next target, 35km. This would be the furthest I had ever ran. Another smile of achievement.
At this point my whole body was aching and although my calf was still sore, it just blended in with everything else. I picked up my last armband at the turn around point (38km..ish). I was on the home straight now and I had just clocked the previous 2 x 1km splits at under 5mins. Not too shabby. For the first time I was looking forward to going back in to the centre area of the course where the noise and support was heaviest. I reminded myself of all the training and sacrifice that I had made to get here and how it had all come together perfectly. I remember thinking that I should ease up over my last 2-3km and try to absorb the atmosphere but to be honest my body was screaming. It's nice to imagine that I had a choice but I really don't think I did.
I completed the last two out and back sections, I came over the last bridge, discarded any unused gels at the last aid station, and I hit the boardwalk for the last time. The boardwalk hugs a glass building so I took a quick glance at my reflection to see how I was looking for that red carpet photo…….I looked like shite, no surprise there. Was i expecting something different? I turned in to the finishers chute and I tried to look out for Ceire or any of my supporter's gang but such is the support in Copenhagen, it was impossible to pick them out. "Fuck it, I'll just have to enjoy this on my own" I crossed the line with a 3hr 38min marathon…….10hrs 16mins in total. Better than I ever expected!! What a race and what a year!! "I'm never doing one of these again" was the only thing I can remember thinking.
Thankfully the three other lads all had great races and most importantly made it home in one piece. After Ceire and my family flew out on Monday, I met the lads close to where the run had been the previous day. We spent the rest of the day swapping stories and experiences from our races. By our 4th beer we were already discussing the possibility of another full. David insisted that I would definitely find 15 minutes on the Barcelona course and from that moment on I consigned myself to the fact that I will attempt a full distance again with the aim of going sub 10 hours. It won't happen in 2019 as I want to work on a few things next year and improve my shorter distances but who knows after that.
Finally, a big thank you must go out to those around me who put up with me this year, in particular my fiancée Ceire. She puts up with all the early mornings, long spins and general obsessive behaviour that interrupts our social life and yet continues to be the most supportive person in my life. Everyone else who helped me along the way, joined me on a session, cooked me a dinner or listened to me blabber on about something triathlon related, thanks a mil. And of course, a big thanks to Martin who provided me with the training and support that got me over the line.