Back for Ironman Barcelona 2017, how quickly a year goes by!
Last year 15 Focus on Fitness athletes took on the challenge of racing Ironman Barcelona, a great success with all crossing the finish line.
This year 12 Focus on Fitness athletes took on the challenge, three going back to do Ironman Barcelona 2017, and 9 of the 12 doing Ironman for the first time.
Ironman Barcelona is one of the most popular races on the Ironman calendar; a combination of nearly guaranteed good weather, fabulous beaches on the Mediterranean coastline, and a spectator friendly route makes it an ideal holiday location for competitors and spectators.
For any race it is always important to be alert for last minute changes and hiccups! This year the race date was changed earlier on in the summer due to the Spanish referendum. Then Ryanair flights started to be cancelled with a pilot strike looming. All very unsettling for athletes as race day approached. Some travel plans had to be changed, but eventually all 12 arrived in Calella. Preparations were completed and all were set, ready for a race start at 7 am Saturday morning. I was planning on travelling on Friday but as my flight was cancelled final instructions had to be done by phone to all athletes.
Conditions were good on the morning for the 3.8 km single loop swim. A slight current on the way to the turnaround made for a slightly easier return to the water exit. The bike course is flat and fast with 2 turnarounds to make up the 180 km bike ride taking athletes back to Calella to take on the 3 loop 42 km run course.
It is a spectator friendly course on the bike and the run, and there were plenty of supporters to encourage and support the athletes all the way over the finish line.
Noel O'Regan (Cork Tri Club)
Noel came to me for a plan earlier this year for his first Ironman race. Coming from a running background Noel was forced to cut back on the running distances due to injury. He turned to Triathlon and it wasn't long before the Ironman distance took his interest. He covered a lot of work on the bike this summer, improving technique and getting stronger, which all payed off on the day. Noel's head down, hard work attitude delivered a super race.
A 1:07 swim, a great bike of 5:16 and running a 3:32 marathon Noel crossed the line in 10:07 a fantastic first time at the distance. I have no doubt he will be back again to race the distance.
Brian Jacob (Waterford Tri Club)
Brian was coming back having competed in the race last year. Brian has had a great season so far coming off the back of "The Race 2017", and qualifying for the Ironman 70.3 World Championships in South Africa for 2018.
A great swim of 1:13 (a little relaxed effort on this to aim for a better race overall worked out well), another great bike of 5:08 he overcame a couple of problems on the run to finish in a time of 10:38 taking almost 50 min off his time from Ironman Barcelona 2016.
Stephen Collins (Blackwater Tri Club)
It was a family affair for the Collins family, with Stephen, sister Aoife and brother Michael all taking part in the race, all doing full lronman for the first time. Stephen had a great year in the lead up to this race with some great races at Marathon and a PB on 70.3 distance.
The work was done, Stephen swam 1:28, had a strong bike of 5:22 and a great marathon time of 3:42 finishing in 10:41. He was delighted with the time for a first attempt at the distance and taking the family bragging rights on the day. I am sure he will be back again to take on the distance after some time off.
David McConnell (Waterford Tri Club)
David was back to Barcelona for the second time. This was also a big training year for David, he took on "The Race 2017" earlier this year as a change from triathlon. He also had some good improvements on half marathon distance this year as a lead into this race.
On the day, a great swim time of 1:09, a good even bike effort of 5:38 and finishing off with a good run of 3:50 he finished the race in 10:52. He took 25 min off his time last year and was delighted to get under the 11 hrs. Another bit of work on the bike and there will be even more improvements and no doubt more PB's to be got.
Don Ryan (South Coast Tri Club)
Don was another first time athlete taking on the long distance. Don started with me earlier this year. After a review of his plan, we decided to tame things back a little and get him on track, ready for this race. Don had a target of doing 12 hrs for his first attempt, but once things were back on track we discussed and readjusted this.
A swim of 1:21, mechanical problems on the bike cost him some time which was a pity but still biked a very respectable 5:36 and ran a good marathon of 3.46 crossing the line in 11:00:05, that 5 sec will haunt Don for ever. I think Don has been bitten with the Ironman bug and has some unfinished business with the distance.
Maggie Murphy (Waterford Tri Club)
Maggie a Wexford native was doing Ironman for the first time and chose to race in Barcelona. She was first Focus on Fitness female across the line. Another good year of solid training and a great work ethic had Maggie record a PB marathon time and some great results on shorter distance and 70.3 distance leading into this race.
A swim time of 1:19, a bike time of 6:12 and a marathon time of 4:23, with a finish time of 12:08. A super result, with her first race under her belt Maggie will be back and no doubt will take time off the distance.
 Aoife Collins (Cork Tri Club)
Aoife was next, again first time doing full Ironman distance; a couple of 70.3 distances done earlier in her career including Dublin 70.3 this year.
Aoife exited the water in 1:28 and delighted. A good bike leg had her arriving back in transition in 6:30 ready to run. A good even pace on the run had her finishing the marathon in 4:32 with an overall finish time of 12:44 a very respectable time for her first Ironman.  Aoife ran Dublin City Marathon 4 weeks later in a time of 4:11 to finish off a great season.
Bernie Mockler (Waterford Tri Club)
This was Bernie's first time on the long distance, coming back from a disappointing experience at 70.3 last year. Bernie put in great work in the last 12 months dusting herself down and getting back on track. A lot of solid training, and great races throughout the year along with a good training weekend in Mullingar at the Celtic Warrior Weekend built her confidence. A solid 70.3 in Dublin was the final piece and she was ready for the full distance.
Bernie swam 1:30, biked 6:30 and ran 5:13 (having a slight injury in the final few weeks leading into the race), she finished in 13:13 a great result. Bernie has already booked her place for next year again in Barcelona.
 Tricia Quinn (Waterford Tri Club)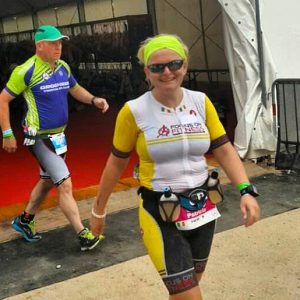 Tricia was in next, another first time athlete taking on Ironman distance. The last few weeks leading into the race were difficult; injury problems forced a stop to the running so long sessions on the cross-trainer were the replacement. The injury was still an issue right up and on the race day but getting across the finish line was all that mattered.
Tricia swam 1:49, had a strong bike in 6:13 and carrying her injury covered the 42 KM in 6:14, finishing in 14:35.
 Ann Marie O'Keeffe (Clonmel Tri Club)
This was a massive personal achievement for Ann Marie. Having raced Dublin 70.3 in 2016 she travelled to support Justin and spectate at Ironman Barcelona 2016. She completed Dublin City Marathon and decided to enter Ironman Barcelona 2017, her mind was made up.
She had a great year of training and also used The Celtic Warrior Weekend to do some long sessions and build confidence for the Ironman distance.
A swim time of 1:30, bike time of 7:15 and 5:36 marathon had her crossing the finish line in 14:39.
Susan Hayes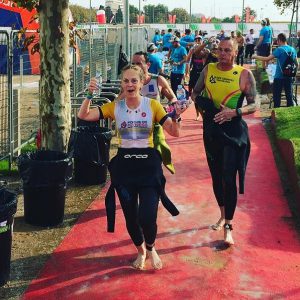 Another family competing at the distance in Barcelona, Susan sister of Brian Jacob took on the race after being on the side lines 12 months earlier spectating at the event. Susan only got into triathlon 12 months ago, starting with a try a tri and sprint race she went and entered Ironman Barcelona.
It was a quick, sharp step up moving to Olympic and 70.3 distance in a build up to this race. It was a busy year for Susan getting prepared for the distance for the first time, with a lot of work to be done in both swimming and cycling. There were a lot of nerves in the weeks and days leading up to the race but once stepping into the water it was down to business.
Susan swam 1:33, stepped off the bike in 7:14 and covered the 42 km run in 5:40 to finish in 14:45.
Katie Jacob (Waterford Tri Club)
Katie was back to Barcelona for the second time to take on the full distance with husband Brian and sister in law Susan. She had another good year of training and racing. Katie used Dublin 70.3 as a lead in race where she claimed a much sought after spot for the 70.3 World Championships next year in South Africa.
A good start to the day with a swim of 1:21, she biked 6:53 but with stomach problems on the bike and unable to keep down any food or drink it was going to be a tough task taking on the marathon.
Having contemplated whether to continue on or to pull out of the race husband Brian, on the side-lines after finishing his own race gave some words of encouragement to keep going!  Katie finished the run in 6:22 and crossed the finish line in 14:53, delighted to have stayed the course.
Well done to everyone who took on the distance, all finishing so well, great times, PB's and most important some great personal achievements and memories for so many first time athletes.
I took great personal pleasure tracking everyone, 12 athlete's crossing over the start line just after 8 am and over 14 hours later all 12 across the finish line… mission complete.
I was disappointed not to have made the race due to a flight cancellation but a day in front of the computer tracking every minute of the race was very exciting.
A special mention to all the families and supporters who did a great job on the day!
#throughdedicationsuccesswillcome
Functional Movement Classes continue every Monday night, 7pm in WIT ARENA **OPENTOALL**
Track Session every Tuesday, RSC , 5pm **OPENTOALL**
The 2017 season has been great at Focus on Fitness, with some great results and personal achievements for all. It is coming to that time to start thinking about 2018. If you have any goals in mind give me a call and we can get a plan together.

I can be contacted through email or social media if you have any questions.
 Martin