First Race Report January/February 2018! A busy start to the year for all athletes with another big year ahead for Focus on Fitness. We are looking forward to a great 2018.
If you have any goals, events you need coaching advice for give me a call.
Ferrycarrig 5 Mile

The first weekend of the New Year and back to racing with the #ferrycarrig5mile. Good running conditions, a big entry and a great standard in both the male and female race.
From Focus on Fitness we had Martin Mizgajski who ran 29.11, I ran 30.58, Siobhan Kennedy ran 34.41 winning her age group and Maggie Murphy finishing in 41.39.
Always a great race to kick start the new year.
Naas Triathlon Club Duathlon Series (Race 1)
January kicks off with the annual trip to Punchestown, Naas for race one of the Naas Triathlon Club 3 race series of duathlons.
Conditions were good compared to most years… cold! but dry.

Focus on Fitness was well represented with 9 athletes taking to the start line. The pace was hot from the gun on the 3km run around the outside of the race course, followed by 20 km bike route and the same 3 km run to the finish line.
Shane Power was first across the line from the group finishing 11th place in 58:53, Jason Travers was next in 59:36, 15th position and 2nd in age group.
I was next in 1:01, followed by Brian Jacob in 1:03, next Jim O'Brien crossed the line in 1:10.
Siobhan Kennedy was next taking a podium position, 3rd female overall in 1:11. Neil Griffin was next in 1:11, Nigel O'Sullivan finished in 1:14 and Colin Dunne in 1:24.
Well done to everyone racing today, a great opening to the 2018 duathlon season.
 St Pauls Parish Frank Leahy 5 mile Road Race

The annual St Pauls Parish Frank Leahy 5 mile road race took part on Sun 21st. A great lead in race for the John Tracy 10 mile coming up on Feb 4th. Great run conditions on the day even though it was raining on this fast 5 mile course which took the runners out of the city to Butlerstown and back into the finish on Paddy Browns road.
Martin Mizgajski was 13th place in 29:09 and first from Focus on Fitness. He had a big battle with Jason Travers to the line who finished in 29:11. Shane Power was next in 29:41, I was next in 29:49, Alan Lyons was next with a great run in 30:16, Brian Jacob finished in 31:08 followed by Mark Gator in 31:12, Ken Dickenson finished in 32:07, Liam Carey 32:34, Anthony Kirwan 33:05.
Siobhan Kennedy won the female race for the second year in a row in 33:52, JP Williamson was next in 35:42, Ciara Mc Sweeney finished in 36:01, Jim O'Brien finished in 36:45, Nigel O Sullivan 38:31, Julie Monaghan 39:22, Ger Nolan followed closely in 39:30. Eimear McSweeney crossed the line in 41:59, Bob Cowman was next in 42:38, Norma Goggin finished in 42:46, Susan Hayes 44:08, and Katie Jacob 44:49.
Well done to everyone who took part on the day.
Irish Indoor Rowing Championships, UL
Well done to Seamus Wall, taking 2nd place at the Irish Indoor Rowing Championships, held in University of Limerick.
A great result.
The Big Foot Snow Shoe Festival
The Big Foot Snow Shoe Festival took place in Midway, Utah, USA. There was varying distances from 50 km down to 5 km distances on the day. Valerie Arechiga took part in the full marathon on a tough course, running in snow shoes! This looks incredibly tough going.
Valerie had a great race finishing 2nd overall, covering the 42 kms in 5 hrs 28 mins, only 6 sec behind the winner. A great start to the season with some more amazing races coming up later in the year.
Mark Hayden took part in the 25 km race and finished 4th in 3 hrs 17 min.
West Waterford John Treacy 10 mile Road Race
The John Treacy 10 mile is in its 27th year; one of the big road races of the year. It is always a good race to kick start the year, if you are lucky enough to get an entry for the race. The massive 2,700 strong field at the start line headed out into the West Waterford countryside in perfect running conditions.  As always there was a big turn out from Focus on Fitness.
First across the line was Eoin Lyons coming back from an injury sustained last September running a great time of 56:25. Jason Travers had a great race running 59:34, breaking the 60 min, something not done in a good few years. I finished in 1:01:05, Shane Power in 1:02:06, Alan Lyons in 1:03 setting a PB for the distance, Mark Radley running 1:03:13, Stephen Butler 1:04:26 followed closely by Brian Jacob in 1:04:29 running a PB, John Lynch also crossed the line in 1:04:29! Brendan Mooney was next in 1:05:34, very close with the next three. Eamonn Ryan in 1:06:07,  Tony McMahon in 1:06:10 and Ken Dickenson in 1:06:23 running a PB for the distance.  Siobhan Kennedy was next winning her age group in 1:08:27, Mark Gator crossed the line in 1:09:10, David McConnell finished in 1:10:02, JP Williamson crossed the line in 1:12:59 and Ciara McSweeney 1:13:43 Neil Griffin ran 1:15:45, Nigel O Sullivan 1:18:43 running another PB already this year, Ger Nolan 1:21:08, Julie Monaghan 1:20:06 running a 3 min PB, Rhona Hayden 1:25:20, Norma Goggin 1:26:10, Bob Cowman getting back to running with a great result running 1:26:38, Sandra Rellis 1:27:29, Eimear McSweeney 1:27:51, Aileen Windle 1:31:15 taking 2 min off her time from last year on the course, Katie Jacob 1:31:47. The next three were very close, Richie Daly returning from injury ran 1:37:38, Susan Hayes 1:37:39, Colin Dunne 1:37:42 and  Annmarie O Keeffe 1:45:14
Well done to everyone who took part and hopefully I didn't forget anyone.
Wexford Night Run
The Wexford 5km night run which was a novel race in aid of the Irish Kidney association on a flat fast course around the streets of Wexford town on Feb 8th. Maggie Murphy represented the group and finished in a time of 24:26
Anne Valley 5 Mile Challenge
The 12th edition of the Anne Valley 5 mile road race took place on Feb 10th. The scenic but challenging  route starting outside Dunhill taking in Annestown and finishing back in Dunhill for the now famous after race tea and cake. Ken Dickenson was across the line first from Focus on Fitness in 33.51 followed closely by David McConnell in 34.03, Eimear McSweeney 42:55 and  Bob Cowman 45:38.
Enniscorthy 10k
The Slaney Olympic annual 10km road race took place in Enniscorthy. Two athletes made the trip to take part Micheal O'Connor finished in 44:46 followed very closely by  Anthony Hughes who crossed the line in 44:51
Moab 55k Trail Run, UTAH, USA
Valerie Arechiga and Mark Hayden had another big race to follow on from the Snow marathon only a few weeks ago. The Moab 55km based in Utah is an off road race. With a  very scenic route but challenging with a mixture of dust trails and slick rock with a total elevation gain of 1,500 mts over the 55km. Valerie crossed the line in 6hrs 56 min finishing 29th in the female race. Mark finished in 8hrs 37 min. Another Ultra race done for Valerie and another big race coming up in the next few weeks and its only March.
Waterford Triathlon Club Tramore Duathlon
The WTC annual duathlon took place in the great location of Tramore. The weather was cold but conditions were good for racing. With up on 400 participants taking part it is definitely one of the biggest duathlons on the calendar. Focus on Fitness was well represented on the day.
The racing was hot up front from the start. The first run was very fast with Emmet Kelly leading the race out followed closely by Eoin Lyons and Colin Turner. Eoin took the lead towards the end of the run and held the lead on the bike and out on the 2nd run.
Colin Turner had a great run to take the lead in the last 500 mtrs of the run claiming victory. Eoin took 2nd place overall coming back well from injury. Mark Gater was next as part of a relay with Craig O'Brien. Mark did the bike leg and they won the relay race finishing 6th overall.  Marcin Mizgajski and Shane Power (Tried and Tested) had a big battle, with Marcin catching Shane in the last few hundred meters. Marcin  finished in 58:22 8th place with Shane 10 sec behind in 9th. Great to see such close racing, this really pushes athletes.
Brian Jacob was next finishing in 1:01 and 13th overall. John Lynch (Tried and Tested) was next in 1:01:42, Alan Lyons followed in 1:03:24, Stephen Collins 1:05;28, Ken Dickenson finished in 1:06:26. Anthony Kirwan had mechanical problems but finished in 1:08:13, Ciara McSweeney finished 7th female and 2nd in AG in 1:11:55, Marie Slattery (KTC) crossed the line in 1:14:18, Liam Carey was next in 1:14:38, Ger Nolan up next in 1:15:34. The next few were very close again, Bob Cowman finished in 1:18:57, followed closely by Peter Whelan in 1:19:01 with Maggie Murphy hot on his heels 1:19:08 and it must have been a sprint with Julie Monaghan finishing in 1:19:10. Ann Hennebry was next in 1:22:14, Karen McNamara (Blackwater TC)  was next in 1:32:46, Claire Crotty taking part in her first duathlon had a great race finishing in 1:36;20.
Well done to everyone who took part, all the marshalls and Waterford Triathlon Club for a great race.
Callan 10k
Anthony Hughes took part in the Callan 10 km getting in more race prep in the early season finishing the race in 44:15
Kilmacthomas 4 Mile
West Waterford AC O'Reilly Butchers 4 mile road race. A new route and shortened distance this year with a change of scenery taking in some of the Greenway as part of the course. Eoin Lyons had a great race following on from a great result in Tramore the day before crossing the line in 3rd place overall in a time of 21:05. David Devine was next in 24:21, followed by Eamon Ryan  in 24:53, Katie Jacob finished in 34:00.
Naas Triathlon Club Duathlon Series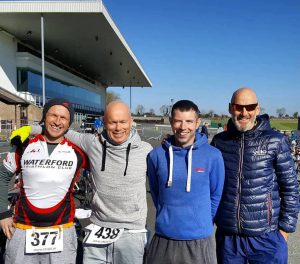 Race 2 in the Naas duathlon series took place with a great standard lining u for the race. Four athletes made the journey from Focus on Fitness.
Shane Power raced for a 2nd day after competing in Tramore duathlon the day before. He finished in 10th place in 57:13, followed closely by Jason Travers in 11th place in 57:25 winning his AG, Neil Griffin was next in 1:07 taking some 4 min off race 1, Nigel O'Sullivan finished in 1:12. taking 2 min off race one.
This is good preparation for the up coming national duathlon championships. over the next few weeks.
2018 NOTES

Delighted to announce that Eoin Lyons from Swimfast Coaching is joining us as swim coach.
Classes 2018
Functional Movement Classes continue every Monday night, 7pm in WIT ARENA **OPENTOALL**
Track Session every Tuesday, RSC , 5pm **OPENTOALL**
I can be contacted through email or social media if you have any questions.
 Martin