Like most people into triathlon I like reading race reports and hearing about other people's experiences so I hope you can take something from this. It's not often you will get this much conversation from me, so grab a seat,  a coffee and enjoy my story of how I got into multi-sport events and somehow ended up in The Race 2017.
Where it all began
I grew up playing all team sports but mainly my focus was GAA. After nearly 20 years of GAA I found that the game I once loved was no longer enjoyable. My training was terrible and my diet was even worse, I ballooned to 20+ stone (the big fella in full forward you might say). My motivation and commitment to the sport just wasn't there so in early 2011 I hung up the boots and walked away from GAA. As 2011 was ticking on and the numbers on the scale were going up I realised that I needed to do something to sort myself out. At this time my Dad was running the length and breadth of Waterford and putting me to shame, he had signed up for and was training for the Dublin Marathon in October 2011. In August I got the mad notion that maybe running could be the thing that would help me lose weight and get fit. So out the door one Thursday night (yes, night because I didn't want anyone to see me running) and that was the start of it. After this I started running with my sister Susan. She had signed up for the Hospice 10 K, I wondered if I could do it and so after a while I plucked up the courage and I asked her could I try run it with her. We made our way through the 10 k and kept the training going and completed the Solas 10 Mile Run and then signed up for the Half Marathon in December in Waterford.
Around the time I started running I was flicking around watching TV and up popped this crazy event called Ironman Lanzarote. People were actually swimming, cycling and running around the island of Lanzarote for hours on end. Watching this all I could think was; this is nuts, this is crazy, it can't be real, how could it be physically possible but for some strange reason despite these random thoughts I couldn't get Ironman out of my mind. There seemed to be some weird fascination with it and I found myself researching everything about Ironman and the sport of triathlon. With my research I actually found out that there were numerous different triathlon distances and there was a triathlon club in Waterford (with an open day in November) and a massive triathlon scene in Ireland.
The Children's Group Link Hall November 2011 – Waterford Triathlon Club Open Day.
So bit by bit I started to bring up the triathlon topic with Katie and mentioned that there was a club in Waterford and they were having an open day. I don't think she thought too much about it at this stage and probably just thought I was a bit young for a mid-life crisis. Anyway, one Saturday on our way to do some food shopping I mentioned I was going to go into the open day to see what this triathlon business was all about. We parked up outside the Grouplink hall and I asked Katie to come in with me as I wasn't confident enough to go up on my own. Up to this point I had been thinking I was great fella and thought that after completing my two running events I was getting fit and in shape. I walked into the hall and the first three people I met were Shane Scadding, Helen Whyte and Barry Lambe, they were probably the fittest people I had ever seen in my life. Barry was about the size and weight of my right leg and straight away I didn't feel like a great fella anymore. I started scanning the room to see if there was a quick exit we could take but no such luck. Looking around I saw some lads I knew like Paul Ogle and Paul Wyse. I knew how fit they were and thought right I'm definitely out of my depth here. Thankfully and gratefully Shane, Helen and Barry along with everyone else there were so nice and helpful that I thought it'd be rude if we left before they started the presentations. Plus they knew how to rope the people in with the free tea and biscuits.
That was the start of it all. Katie and I joined the triathlon club in January 2012 and started training with Martin Kirwan from Focus on Fitness in February. At this stage I had already signed up for Ironman Galway 70.3 in September. Things progressed quite rapidly in 2012 going from my first Try a Tri in April to the 70.3 in Galway. Along the way I had a mad notion of signing up for Ironman Lanzarote the following year. I still remember Martin calling into the house and me asking what he'd think of me doing Ironman Lanzarote. As I had only completed a Try a Tri at this stage I know he got some shock but he took it in his usual calm stride and told me that if I was prepared to put in the work there was no reason why I couldn't do it. I know a lot of people were sceptical about Martin training me for an Ironman so soon after I started the sport but I will be forever grateful to him for having the confidence to train me and not saying no because his belief in me gave me the springboard I needed to get to where I am today. A special mention and thanks also to Siobhan, Norma, Martin and Dots who I completed all the Lanzarote training with and without a doubt I wouldn't have got to the start line without their help and support. Also thanks to Mark Daly, Tom Casey, Ger Hearne, Brian Sweeney and Brian Hearne who also completed Lanzarote and the rest of the Waterford gang who made the holidays and celebrations so enjoyable.
So Ironman Lanzarote in May 2013 was my first dabble in long distance endurance events (I should point out that it was also my honeymoon. Yes, I have the best wife in the world) and I rounded off 2013 with the Dublin Marathon. Over the next few years I continued to race in a range of triathlons with my main focus being long distance events.
2014 – Ironman Nice a.k.a. Planes, trains, boats and automobiles Ironman (that adventure deserves its own race report ha ha).
2014 – Shadowman Half distance.
2015 – Tri an Mhí Half distance and Ironman Copenhagen a.k.a. The boring one.
2016 – Paris Marathon and Ironman Barcelona a.k.a. The disappointing one.
2017 – The Race, Dublin 70.3 and Ironman Barcelona a.k.a. Unfinished Business!
So that is how my journey started and hopefully it gives you an insight into how I went from fat to fit to a fanatic and ended up on the start line of The Race 2017.
The Race 2017
A 24 hr 250 km unsupported race across the hilly rugged landscape of Donegal in early March, involving running, kayaking and cycling. Voted as one of the top 10 endurance races in the world, David Burns the Race Director speaks about The Race and says "you are not guaranteed to finish this race" and "sometimes you have to come once to this race and fail so you can complete the next time".  Race organisers David and Magnus picked the location and the time of the year as you're more likely to get changeable weather — hailstones one minute, calm for a couple of hours and wind that can change direction two or three times a day.
Are you mad? Why? No seriously, why? These are just some of the normal responses you get when people hear what you are doing. To be honest I don't know why. My first reply is normally "yes I'm a bit mad" and "sure why not, what else would you be doing". The real driving factor though is the experience, the unique challenge and the sense of achievement knowing you can physically and mentally push yourself that much. Also I wanted and needed a break from the ever commercialising sport of triathlon. Now a days in triathlon, training and racing people spend an ever increasing amount of time talking and worrying about times, paces, splits, power, FTP figures, and worrying about what everyone else is doing and wearing. Yes we all want to go fast and have fast times but somewhere over the last few years people have forgotten this is a hobby and it's meant to be enjoyable.
 I wanted to get back to the basics; no bravado, no egos, no bullshit. Just me, the road, the lake, the mountains, the trails and the elements, a true test of how strong an athlete I am and to get back to pure enjoyment of racing. Since I took up triathlon, one of my favourite quotes I've read is "I do this sport so I get to see the world and not so the world can get to see me".  In 5, 10, 20, 30 years' time, whenever I finish in this sport I am not going to look back and remember times, splits, PB's etc. What I will remember are the places I've seen, the people I've spent time with, the friends I've made, the experiences and adventures I've been on.
So back to The Race, in 2016 Martin Kirwan was doing The Race. Katie and I travelled up to support him and to watch the race. She knows me all too well at this stage and knew I wasn't going up just to support. She knew I was going up there to see if I'd like to do it. To be honest the minute Martin told me about The Race and I heard what was involved I knew some day I'd sign up and try get to the start line. So with that in mind I was really going up there to see if there was any reason for me not to sign up. Unfortunately, there wasn't J, seeing the sense of achievement people got from finishing was all I needed to see.  Like when I first heard about Ironman all those years ago, there was that same sense of fascination about this race and the training. Hearing about the sessions Martin was doing to prepare had me excited and I couldn't wait to get going. The double run sessions for some reason sounded like a fun challenge and I was already looking forward to them especially the 2 x 13 mile runs. When you hear about a race or challenge like this and it sends shivers down your spine, you know you have to give it a go.
Martin was planning on signing up for 2017 and there were rumours of David Mc Connell and David Connolly signing up too. The fact that Martin was going back made me think it can't be as bad as it sounded. I would soon learn different….
The Race 2017
Training for The Race officially started for me in November 2016 after recovering from Ironman Barcelona. I had a massive base from training and racing that year so I was in a decent place with training. The initial meeting David, Dots and myself had with Martin really put things into perspective for me, this was going to be brutally hard. To hear Martin say the cycle course was the hardest course he's ever cycled was giving me second thoughts. At the start of the meeting David, Dots and myself were full of laughing and joking but by the end Martin was the only one smiling and in a sick way he seemed to be enjoying the shocked look on our faces.
I am the type of athlete who enjoys the journey to the start line as much as getting to the finish line, so I can honestly say I loved the training and everything involved in the preparation for The Race. It wasn't easy, far from it. Early mornings, long hours, long days and the long weeks and months spent training were tough, but I just kept thinking; trust Martin, trust the plan and just do the work. There was such a variety in the training and sessions that were planned that it was enjoyable. Seeing the hours increase weekly, my body getting fitter and my mind getting stronger was extremely satisfying as I knew the work was paying off. For the 4-5 months of training I completed every cycle session without speed displayed in front of me, every run was done to heart rate and not looking at pace. This was a massive break from the usual pressure of times and paces which helped me to really just enjoy the training. The fact that the four of us were training together made it that more bearable and a lot more enjoyable. As any group training together there were a lot of highs and lows and lots of laughs along the way. A couple of moments that stand out to be are:
The small dispute we had with a fisherman when we had finished our first kayak session was entertaining to say the least.
Going cycling for 5 hours one particular Sunday morning at 6.30am, we were so tired from training the day before that the four of us didn't speak to each other for the first 2 hours.
The training weekend in Donegal – 5 weeks before the race we travelled to Donegal to train for 3 days and get some course familiarity. To say this was invaluable would be an understatement
From day one and the initial meeting we had about The Race, Martin suggested we do this as part of our training and as usual he was spot on. We travelled to Donegal on the Thursday with the plan being to train Friday, Saturday and Sunday. Friday we completed the first cycle route, climbed Muckish Mountain and cycled the equivalent to the second cycle distance. Saturday we covered some of the first bike route, all of the second bike route and finished off back to the hotel again with roughly 90 miles done. Sunday was a long run covering the first 18 miles of the run course; I can safely say this was probably the hardest run I had completed up to that day but also one of the most stunning for scenery.
Glenveagh National Park
The 10 hour brick session – starting at 6 am in the morning and hoping to be finished by 6 pm that evening is never going to sound easy or enjoyable so it was a case of turn off the brain, stop thinking about it and just do it. This was a day to not only get our longest session in but to test the gear and nutrition plans for the actual day.
Race Week
I travelled up to Donegal with Katie on the Thursday before The Race and met the rest of the lads and support crew. A quick 30 minute session on the turbo in the hotel car park when we got there was a bit strange but needed to be done to freshen up the legs after driving all day.
When I signed up for the Race I had a few targets but nothing too serious. Having completed all the training as planned and having done the training weekend in Donegal my goals were clear in my mind.
Not kill myself in the kayak
Try to get as much of the second bike section if not all of it completed in daylight
Be confident in my own ability to push myself all day and not sell myself short in terms of finishing time all while respecting the enormity of the tasks ahead
Finish in the allocated time
Above all enjoy it as much as possible
Packing the transition boxes the day before The Race was probably harder and more stressful than The Race itself. I've never been so tetchy or stressed, I must have packed and repacked the boxes 20 or 30 times to make sure I had everything I needed and yet I still thought I had forgotten something.
Once registration was complete, boxes and gear dropped off I was able to relax. The other main aim on the Friday was to make sure my food and hydration were good; being so busy it is easy to miss a meal or forget to drink as much as you should. The race briefing the night before was quick so we could all get to bed early.  When I got back to the hotel after the race briefing my sister and brother had arrived to support the next day, this was massive boost for me to know they were coming all this way to cheer me on.
Race Morning
I'm not sure if it is actually considered an alarm if you don't go asleep but either way my alarm was set for 3.30 am. Breakfast was consumed in a haze, I'm not a morning person so pre-race nerves and an early start combined had me on edge. The drive to Gartan Adventure Centre for The Race start was interesting for me, I normally don't get nervous before racing but I had felt little nerves creeping in over the last few days and the nerves were really kicking in now. This was a whole different experience and like no other race I had done before. We left the hotel at 4.15 am and all I could think was there's a possibility that this time 24 hours I could still be running to Gartan on the way to the finish line. I'm not sure why I was so nervous, I knew what lay ahead, pain and suffering was inevitable but I suppose it was the unknown of how bad it was actually going to be and how long it would last. The start line is completely different from an Ironman. An Ironman will have music blaring, an announcer talking to athletes and getting them psyched up. The race was the opposite, quietness with little pockets of nervous chatter. The nerves and anxiety could be felt in the air.
We arrived at Gartan around 4.45 am, walked to the start line, some quick hugs and best wishes from Katie and all the support crew and off into the starting pen we went. A handshake and nods of best of luck to Martin, Dots and David and I was all set. I stood there staring up the lane out of Gartan where the run would take us into total darkness and my mind flashed back to that first ever run I completed in the dark. I couldn't help but get a little emotional at the thought of how far this journey had brought me. Little bit early to be getting emotional so a quick pull myself together and then…. a countdown from 10 and simple shout of Go! and we were off.
Stage 1 – 24 km Run
This stage is relatively flat in comparison to the other stages. Other than the first mile being uphill it was a nice run but this stage was hard for different reasons. Having tapered for two weeks I was feeling fitter, stronger and more rested than I was in months. I felt like a caged animal waiting to be let out, for most of the first run I wanted to tear down the road at 100 mph. I purposely stood to the back of the field of competitors so that I would get boxed in and have to take it easy. If I had of went to the front I could have got carried away and taken off too fast. This was the hard bit, holding myself back and reminding myself it'll be a long long day. After 7-8 miles I decided to pick the pace up slightly and from here on it was obvious that people had started too fast. In the last 7 miles I think I passed 15 people so I was happy that starting easy was paying off.
Into transition, put on some wet gear, ate some food, drank can of coke, grabbed life jacket/paddle and off to the kayak start.
Stage 2 – 15 km Kayak
This was the stage I was probably the most nervous about, my kayaking had come a long way from the first session we done. It couldn't get any worse anyway. Thankfully the weather was absolutely perfect for kayaking, not a ripple on the water and the wind at our backs. I still struggled a bit though and at one stage had to leave out a few loud expletives at myself to keep paddling no matter how sore my legs and back were. The kayak that the race supplied was not the same as my own and I didn't get a back rest which didn't help but I still made good time and completed the kayak a lot faster than I thought I would.
First goal ticked off, survive the kayak and I actually had a smile on my face getting out of the kayak while Katie took the piss out of my kayaking skills.
Into transition in the back of a shipping container with a change of clothes, more food another coke, a rather unique view of Dots J and I was off out on the first cycle.
Stage 3 – 96 km Cycle
Relentless hills is the only way to describe this stage. A total of over 1650 m of climbing in 60 miles made this the hardest stage of the day. Having completed this stage a few weeks ago in training I knew what was ahead so I knew I had to pace it correctly or I'd be in trouble. Unfortunately coming out of transition and seeing other competitors meeting friends for company on the cycle didn't have me in the best frame of mind. Anyway, I realised I was here to do my race my way and I soon settled into my own rhythm and pace. Out of the 60 miles only a handful are on the flat, the rest is either up or down. The last 10-15 miles of the cycle is the hardest, this included Lough Salt and the climb up to Muckish Mountain. Lough Salt is probably the hardest climb of the day, you are climbing for 3-4km before you get to the main section of the climb which then lasts another 2-3km. The last 800m of it is torture, the road points towards heaven but leads to hell, getting over this was a big mile stone of the day. For the last couple of miles you could see Muckish Mountain in the distance and it felt like you'd never get there. Looking at the mountain for so long didn't help mentally either because you knew all too soon you'd have to climb the bloody thing. Into transition, trail runners on, more food, more coke and off up the mountain.
Stage 4 – 5 km Mountain Run…or Walk
This stage is advertised as a 5 km run with 500 m climbing, but realistically it is a walk or hike. The first 1500m is the toughest, once on top the terrain levels out and it is not as steep but it is dangerous. Trying to climb up the really steep sections while out of breath and moving slowly was hard and soon I found myself taking a breather every so often. All of a sudden I had a smile on my face, it's amazing what the mind construes to keep you going, my mind flashed back to those days when I found it this hard walking up a stairs and here I was taking on a challenge like this. That was all I needed to keep me going to the top.  After the turn around at the top there are sections where you can pick up the pace on the way down but at this stage I was 9 hours into the race and didn't have the proper focus to run down the mountain without the worry of injury and I preferred the sound of walking down it so that's what I did. It was nice coming down the mountain and seeing the small dots grow into blobs and eventually into people and supporters that were there cheering us on.
Into transition, change of clothes, more food another coke and out for the second bike stage.
Stage 5 – 68 km Cycle
The first 15 km of this stage is probably the only part of the whole race where you can actually say that the course is fast. After the initial 15 km there was 750 meters of climbing in this section which meant it was still very hard but not as difficult as the first cycle. One of my goals was to get most of this stage completed while it was bright as I felt you would lose an awful lot of time on certain sections if you had to cycle in the dark.  The road surface combined with the profile of the course meant it would be hugely dangerous to navigate in the dark. With this in mind I wanted to push this stage but unfortunately due to a mechanical on the first bike section (20 miles in), I was stuck in the small chain ring so had to make do with what speed I could manage with the gears available. I knew though that all going okay I was on target to make it off the bike while it was still bright. I thought this stage would never end, the last hour felt like it went on forever, cycling down the hill into Doocharry and seeing transition area felt nearly as good as arriving at the finish line. Goal 2 ticked, bike section finished while it was bright.
Into the final transition, I was struggling with food at this point but I had packed a few treats for this transition which helped me get the fuel in (Tayto, bacon fries and a bottle of lucozade) along with more sandwiches and chocolate.
Stage 6 – 42 km Run
Given my fascination with the training for this event and the double run sessions, this was the stage I was looking forward to most. Not only because it was the last stage but because I knew once I was on my own two feet and off the bike that no matter what I'd get to that finish line. Out of all the multi sport disciplines, running is my preferred sport, the thought of running a marathon in the dark in Glenveagh National Park doesn't sound appealing for most people but for me it was the section I couldn't wait for. Unfortunately I didn't run as well as I had hoped, up to this stage everything was more or less going to plan. I'm not sure whether it was physical tiredness, mental tiredness or a combination of both but I just never got going on this stage. The first 9 miles were uphill, after this you turn into Glenveagh National Park and don't see any supporters and in my case no competitors either until mile 18 which was hard. From mile 14-16 the trail more or less points to the sky, I knew from the training weekend that this was roughly 2 miles long, so the thoughts were just keep moving and get over the top. This was a major low point for me and probably my only really bad patch of the day, I was so tired I felt like lying down and sleeping. At this stage I was walking and the only thing that kept me going was telling myself there's no point stopping as there's only one way out of this park and that's to keep going to the finish line. Over the top and downhill for 2 miles, this is where I saw the support crew again which gave me a massive lift even if I didn't show it. The last 8 miles were rolling with some very steep hills.  I wasn't familiar with the last 8 miles so this was a bit of a shock. I hadn't seen any competitors since mile 1 of the run, around 21-22 miles in 3 guys passed me (unfortunately with their friends running with them for support). I tried to push myself to run with them but the body was not agreeing so back to a steady walk run pace.
Turning back onto the road out of Glenveagh, I saw Martin, Siobhan and Nicola and with some words of encouragement I got running for a few minutes until the next steep hill, and then I was back to my walk/run pace. Soon I could hear the announcer calling athletes home for the last mile or two so I knew I was getting close. Turning down into Gartan after over 18 hours felt amazing. Crossing the line and having family and friends to greet me was fantastic. A few photos and then a much needed sit down.
Goal 3 was constantly being ticked off all day, overall I was happy with my performance, I finished in a good time (ticking off goal 4) and really enjoyed the whole experience. Looking back at the photos I am smiling a lot more than I normally do in races (ticking off goal 5).
Unfortunately there is that annoying voice in the back of my head that is saying I should have been faster and finished higher up the field, reminding me that the weather was too good and that I need to go back for the "unique Irish weather experience" but I'm trying my best to ignore the voice for a while J.
The Aftermath
The main question….were the long hours, sacrifices and commitment worth it?
An emphatic yes! I am of the mind-set that I am lucky enough to be mentally and physically able to compete in a sport like this. I don't see training as training if that makes any sense. I don't see training sessions as chores or I have to do them, I get to do them and I have a passion for training especially long distance endurance sessions. So for me this was as the race organisers described it, a uniquely Irish experience and one that will be at the top of my most enjoyable and recommended race lists. Will I ever go back, I wouldn't rule it out but I have no plans at the moment. I can see myself marshalling up there though just so I can give a little back.
What's next I hear you ask?
A well-earned holiday with no racing or training is planned, well definitely no racing but maybe some training. After that, well I've set myself some big targets and goals for the coming year(s). I know as usual with Martins training, support and expertise there is no reason I can't achieve them once I put in the work.
So this was my journey and how I went from fat to fit to fanatic and ended up signing up for and completing The Race.
A special thanks to my family and friends for all their support the last few years, most of my family have taken up triathlon and below is a photo of my brother in law, sister, Dad, myself and my brother after all completing a triathlon last year.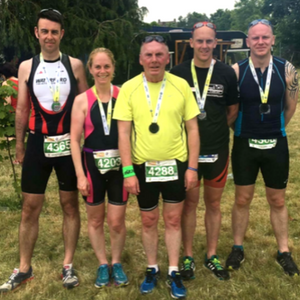 The two main people who I need to thank and who have been by my side throughout the last few years and helped me change my life around and make all this possible are my wife Katie and Martin Kirwan from Focus on Fitness.
Katie from day one supported every mad notion I had and somehow is still here supporting my increasingly madder notions. She has taken on this crazy sport with as much passion as I have. She has had many ups and downs with injuries and illnesses over the last few years but still bounces back with more enthusiasm and fire in her belly every time. Normally when the going gets tough for me it's thinking of her that keeps me going. You can read about her amazing 2016 here KATIE
Martin Kirwan, where do I start? From day one in the Group Link he has been unbelievable in everything he has done for me. When I first started training with Martin my aim was to lose weight, get a bit fit and complete some triathlons if possible. When this happened the next goal was to get as fit as I can and complete the longer events that I always wanted to do. Now it is a case of seeing how much I am capable of, how much can I push myself, how good I can be but all the while remembering this is a hobby and is here to be enjoyed. Training with Martin takes any worries about my program away, he plans every training block and session fantastically. Having that expert eye watching over your training, at times to tell you need to push harder or more importantly in long distance training the need for an  objective eye to tell you to ease off is as important.
I could not recommend Martin highly enough, if you have goals you want to achieve don't look any further than Martin and Focus On Fitness.
I went from Fat to Fit to Fanatic in the Endurance world.
Whether your goal is education, work, personal, social or sport related. If it's a 5 K, Half Marathon, Marathon, Triathlon, Ironman, local Park Run or getting out for a walk more often just take that first step and put in the work, I promise the achievements will be worth  it.
Right I'm off to train for the Coast to Coast Ireland 2018??? JJJ